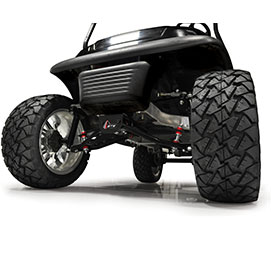 Lift Kits
Rise up without breaking the bank! GTW Lift Kits are built-to-last, they're affordable too and feature:
Increased suspension travel
Allows for camber and tow adjustments
Pivot point grease fittings
Heavy-duty A-arm assemblies (*available on double a-arm style lift kits only)
Bolt on Installation - No cutting or welding, Comes with detailed instructions and all necessary hardware
Available models for most popular OEMs
GTW Lift Kit & Tire/Wheel Packages
Designed to handle the tough stuff, GTW combos feature several styles and finishes of 12" or 14" GTW wheel and tires to choose from, ready to take you down any path!
Available for most popular OEMs
Packages include a GTW lift kit and your choice of either an All-Terrain or Off-Road wheel and tire set
Wheels and tires will be precision mounted prior to shipping and include a set of chrome lug nuts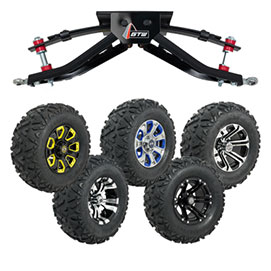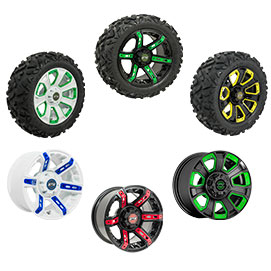 Tires & Wheels
GTW pushes golf cart customization to a whole new level by delivering a wide selection of innovated street designs and off-road styles for lifted and non-lifted golf carts, featuring:
Precision-mounting included - all tire and wheel packages are assembled for free before shipping to your door
Wheels from 10"-14" with finishes from matte to mirror and everything in between
Tires up to 25" with tread options from DOT street to aggressive off-road
Shop All Tires & Wheels  | 10" Wheels  | 12" Wheels  | 14" Wheels  | 8" Tires  | 10" Tires  | 12" Tires  | 14" Tires 
Rear Seat Kits
Our line of GTW Seat Kits are customer favorites! Strong construction and a variety of options will have you adding passengers in no time!
All Mach1 models constructed with a steel frame
All Mach2 models constructed with aluminum frames which are light weight and will not rust
OEM color match contoured cushions with "NO ROT" polyethylene base
Our polyethylene base will never rot like other standard wooden cushion bases
Seat flips out to convert to a flatbed utility vehicle (Flatbed measures 32"L x 42"W)
High-strength molded polyethylene cargo bed with a diamond plate finish
High-gloss black powder coat finish with UV additive to resist fading
Replacement cushion sets available
Available for most popular OEMs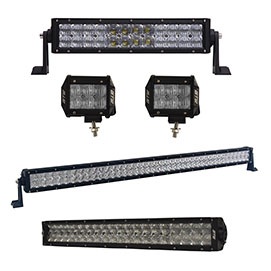 LED Off-Road Light Bars
GTW Double Row LED Light Bars are designed for all popular gas and electric golf carts, complete with:
Accelerated Aging & vacuum tested
Includes mounting brackets, harness, and switch
Diecast aluminum housing
Rated Waterproof IP67
6 sizes available from 3.8" up to 41.5"
Head & Tail Light Kits
Get your Buggy ready for the road with light kits by GTW!
LED Head Light & Taillight kits available for most popular OEMs
Ultimate kits include automotive-grade turn signal assembly with OEM housing, steering column cover, brake pad, switch and horn
Waterproof harness connectors
Cast heat sink for better cooling
Silver alloy solder instead of lead & tin for better conductivity
Operates 40 degrees cooler than traditional halogen lights
LED's have a 5,000 - 10,000-hour bulb life span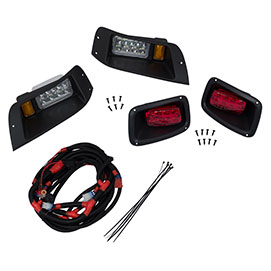 Cargo Boxes
Durable enough to carry heavy loads, GTW Cargo Boxes feature a fold-down tailgate with rattle-free rubber latches to help you handle the toughest task!
Available in your choice of 6-gauge black powder coated steel or diamond plate aluminum
Models for most popular OEMs and include OEM specific mounting brackets
Cargo Box Dimensions: 41" x 27" x 9"
Clays Baskets
GTW Clays Basket mounts to the front of your cart, so you still have room for a back seat or bag rack. A customer favorite!
Made of heavy-duty black powder coated, perforated steel
Includes OEM specific mounting brackets and requires no drilling to install
Available for most popular OEMs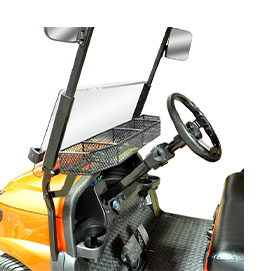 Inner Storage Baskets
Great for work or play, GTW inner storage baskets are made of heavy steel mesh with a rubberized coating to improve durability, reduce noise and more!
Installs above the dash to add additional storage for easy-to-reach items
Includes OEM specific mounting brackets for a superior fit and finish
Available for most popular OEMs
Fender Flares
An easy way to add some style and protection to your Buggy, GTW Fender Flares offer:
Protection from debris
Perfect for lifted carts with oversized or offset wheels
Custom molded for a flawless fit
Constructed of ABS plastic with a matte black textured finish
Available for most popular OEMs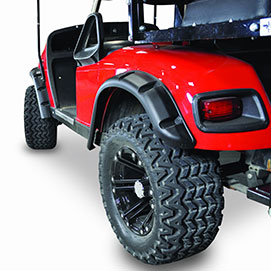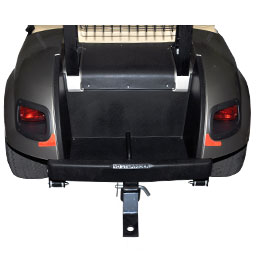 Hitches
GTW hitches are strong enough to take on the dirty work and help you haul what you need to get the job done.
Designed for carts without rear seats and work with all cargo boxes (*model available for carts with rear seat)
GTW hitches feature a 50lb tongue and 150lb tow capacity
Available for most popular OEMs
Steering Wheels
For a quick and easy way to add a touch of flair to your Buggy's interior, go with a GTW Steering Wheel!
Available in many styles and colors to match any paint job, seat cover or sports theme you have in mind
OEM specific adaptors available in a chrome or black finish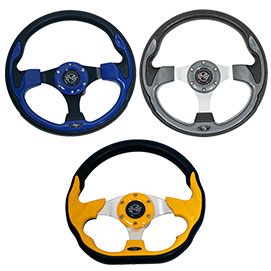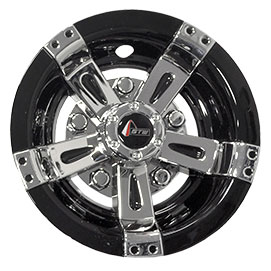 Wheel Covers
Cost-friendly and stylish, spice up your Buggy's appearance with a set of GTW Wheel Covers.
Add a slick visual appeal to most 8" and 10" steel golf cart wheels
Available in several styles and finishes from gloss black to chrome
Universal fit and easy to install with no tools
Mirrors
Say goodbye to blind spots and improve the safety of your cart with a GTW mirror.
Available in several styles from panoramic to side mounted
Universal fit and easy to install
All mirrors include mounting brackets and hardware