NEW! Customer Carts
Check out these amazing customer rides! We always love seeing the custom golf carts you're creating with our parts & accessories. Want to see your golf cart featured here? We'd love to hear from you! Submit Your Cart Today & get a coupon code for 5% off your next order!
Russ M., FL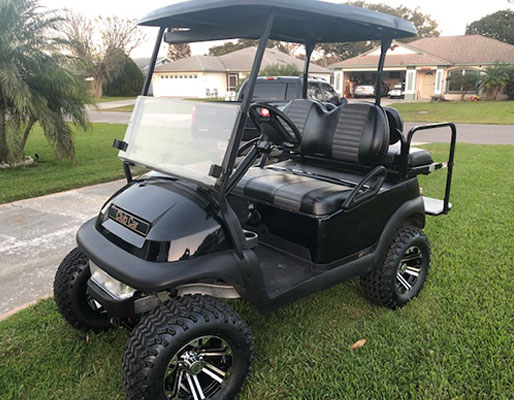 Darrel W., BC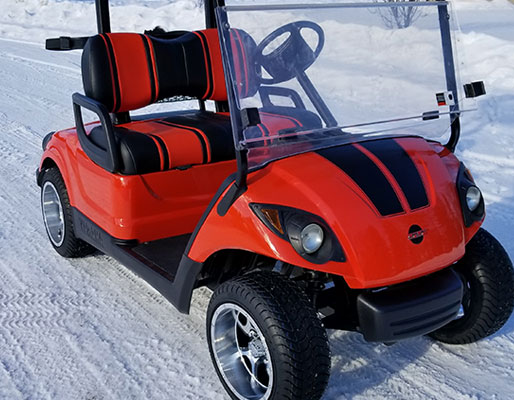 Jeff H., VA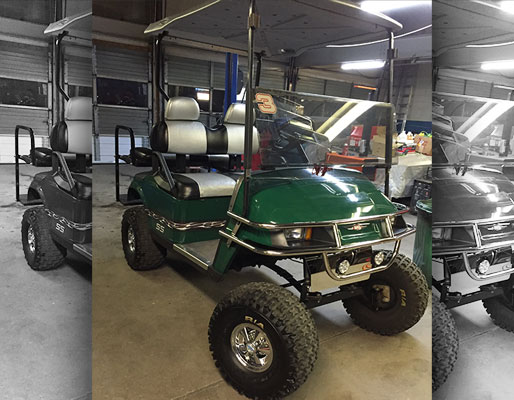 Daniel H., NY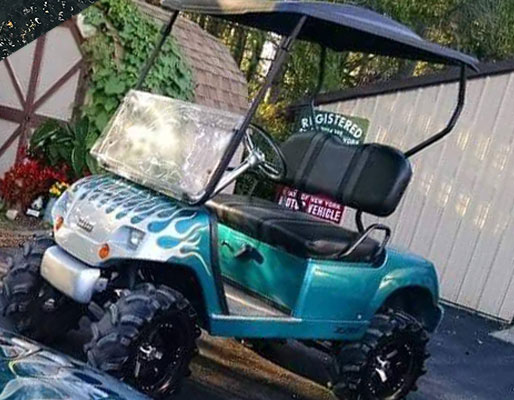 Larry Y., NC
Randy W., LA
Kenneth V., PA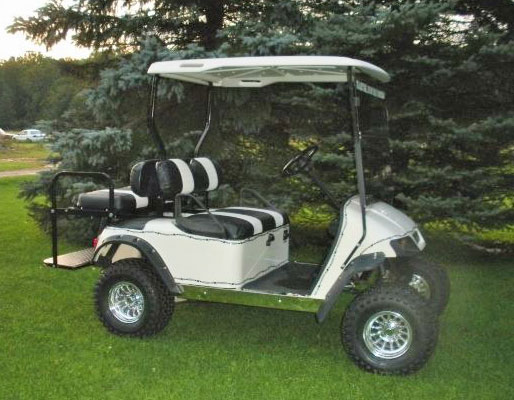 Tim O., FL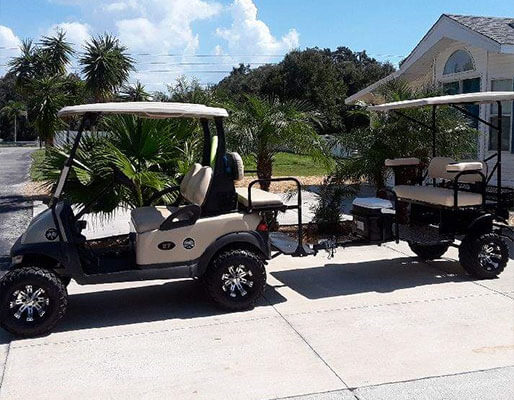 Osten W., WV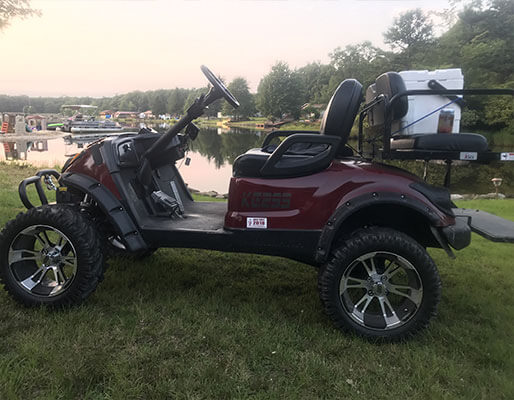 Kevin G., WI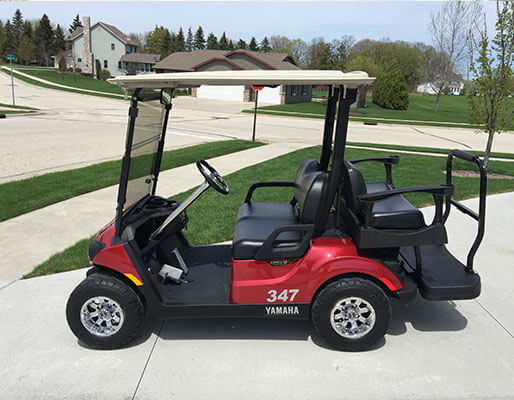 Donald K., PA
Darren T., MN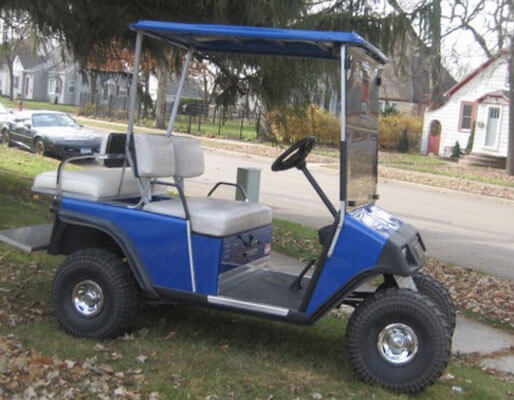 Tom S., IA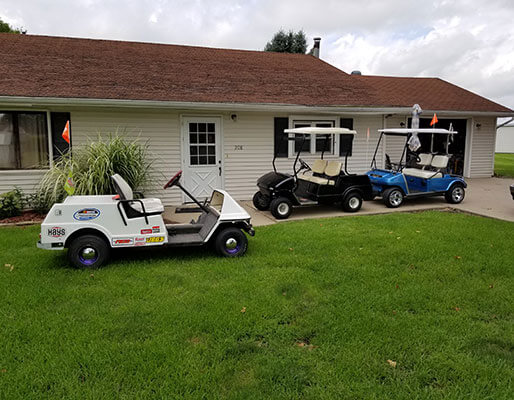 Ken G., FL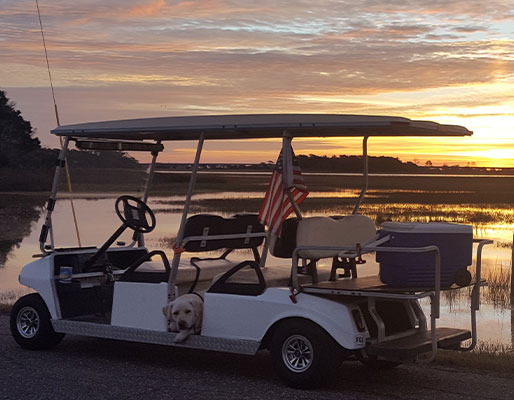 Jeff J., NY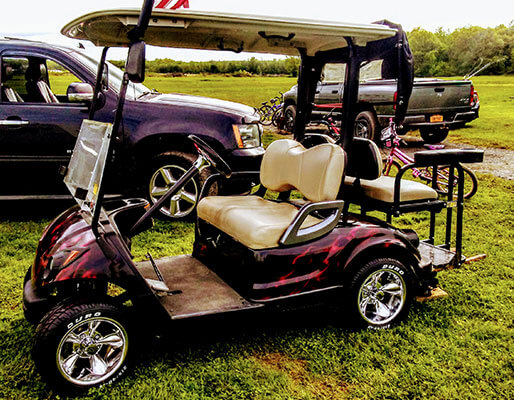 Dave W., FL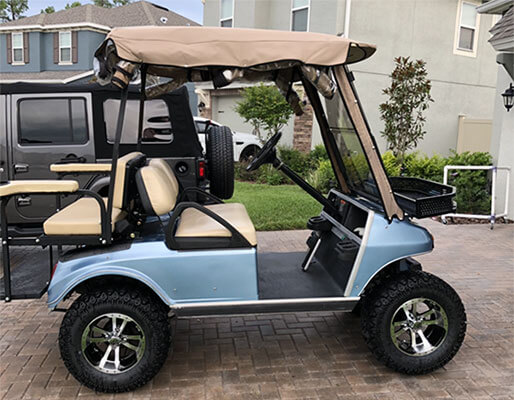 Chuck A., PA
Mike E., MI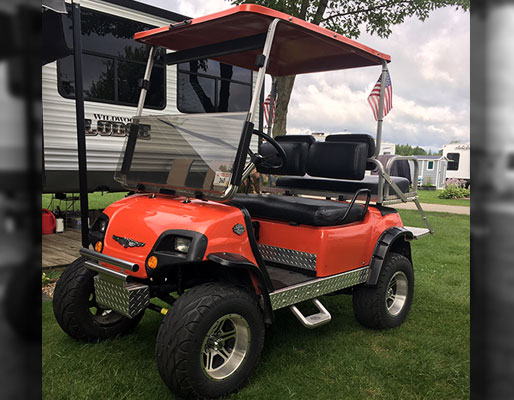 Larr Y., NC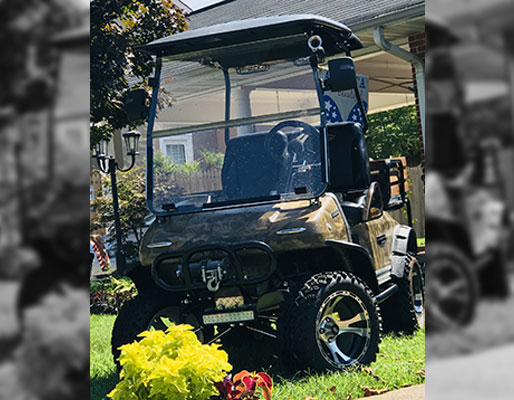 John A., NY
David S., MA
Ray R., MN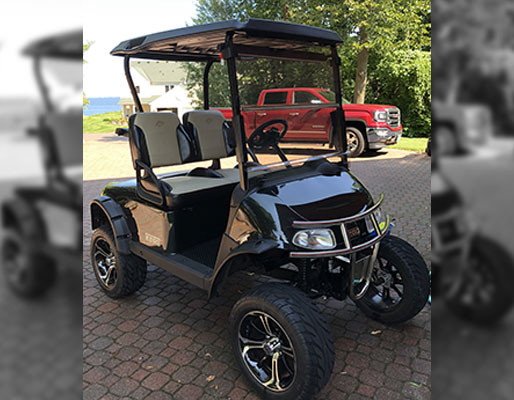 Mike B., IN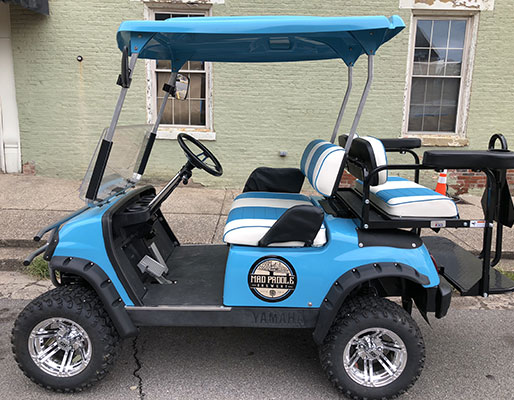 David D., OH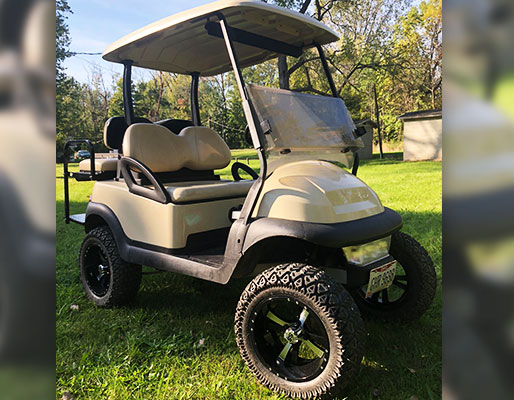 Kevin J., OH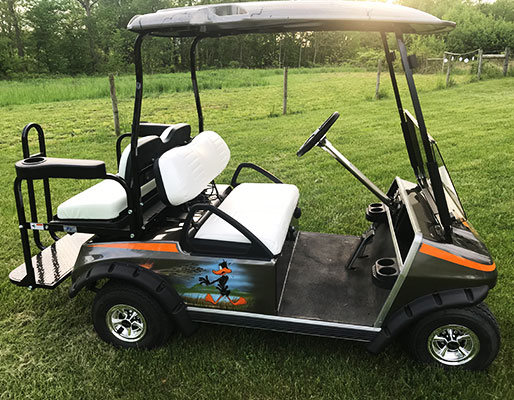 Eric K., ND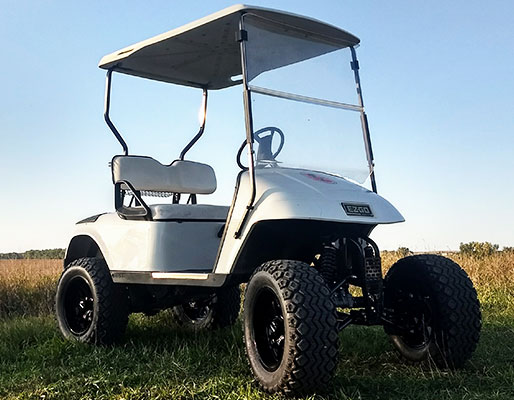 Rick T., AB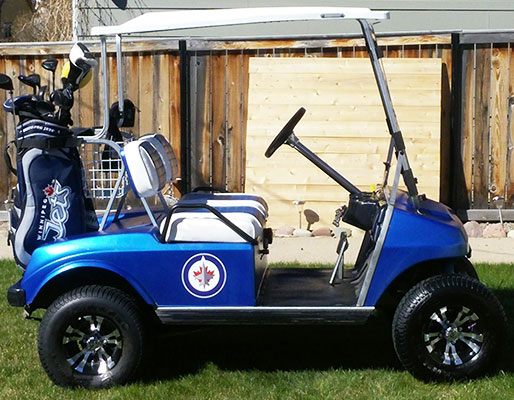 Shaun M., MI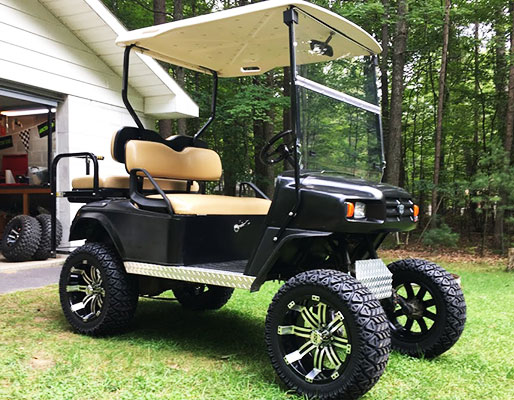 James L., IL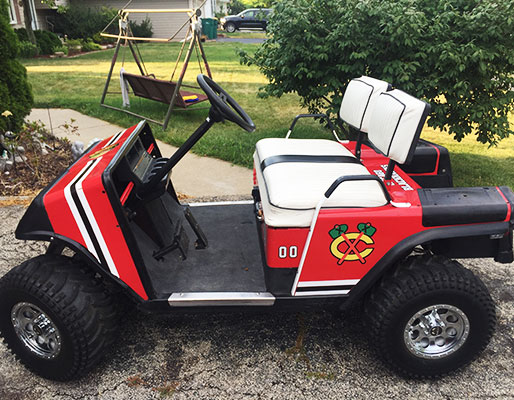 Paul R., RI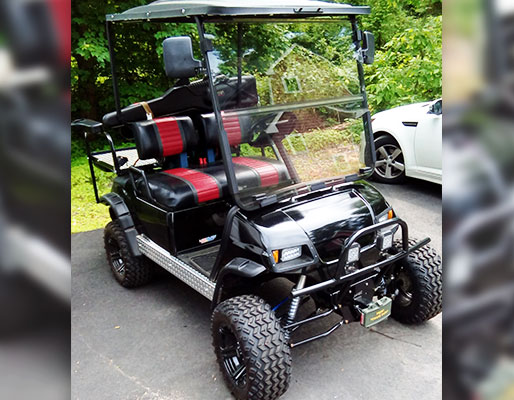 Greg H., FL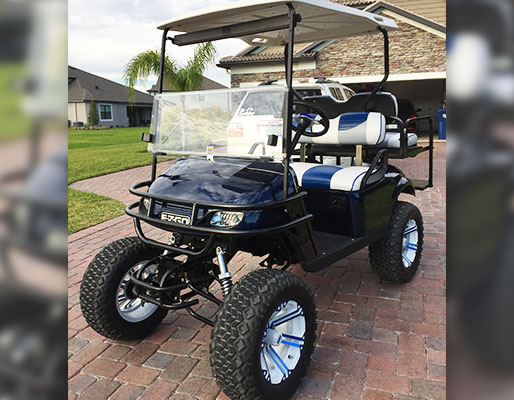 Tom F., WI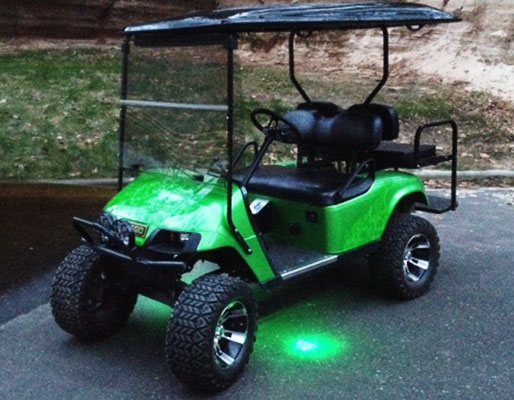 Frank G., AZ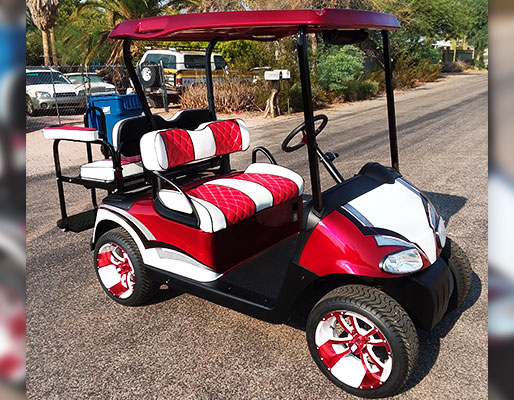 Frank G., AZ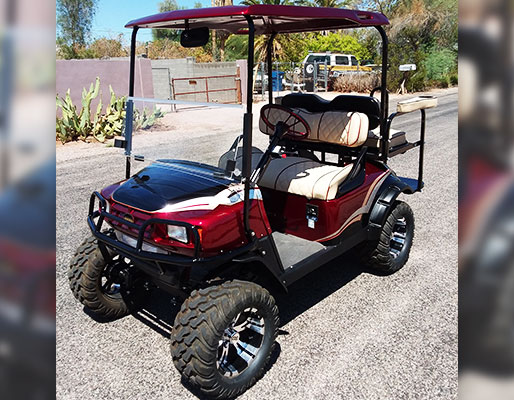 Alan P., WV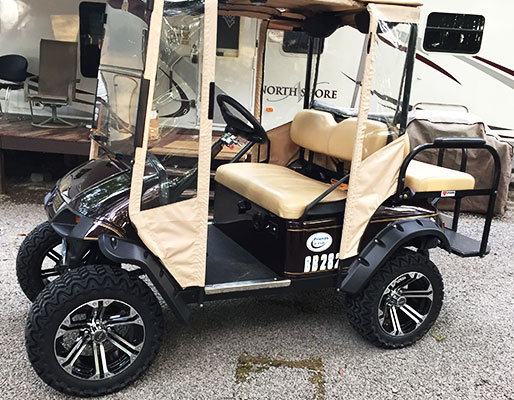 Rich H., AK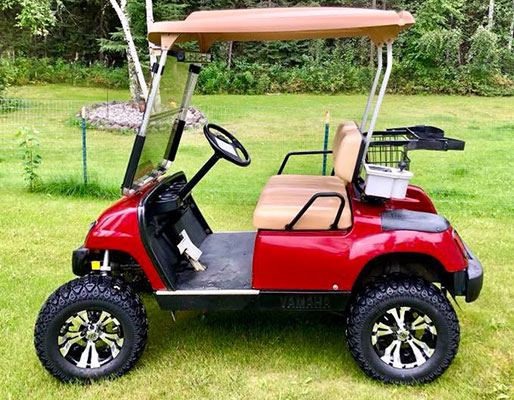 Dean W., FL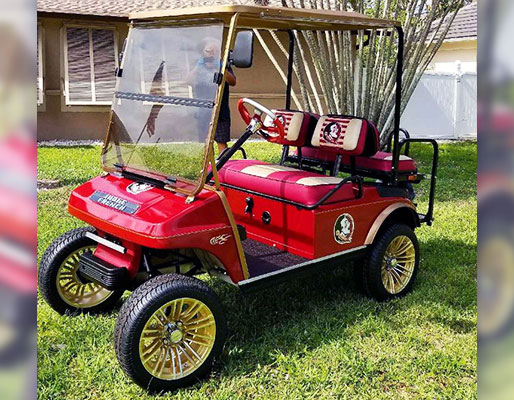 Dean W., FL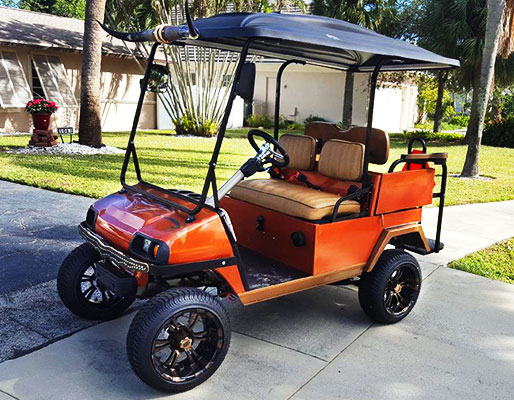 Ron T., ID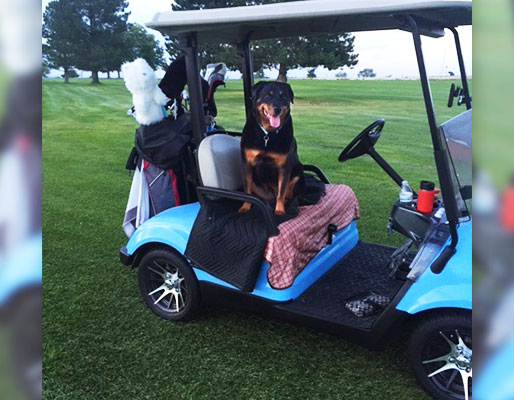 Greg S., NC
David B., NY
Shane O., MN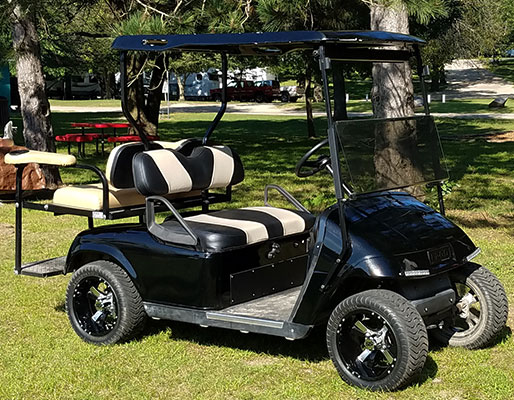 Todd W., VA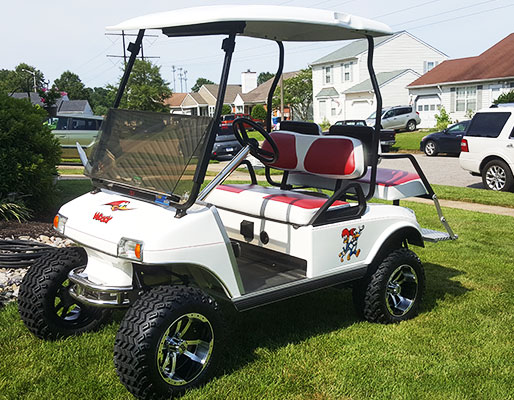 Kyndol K., OK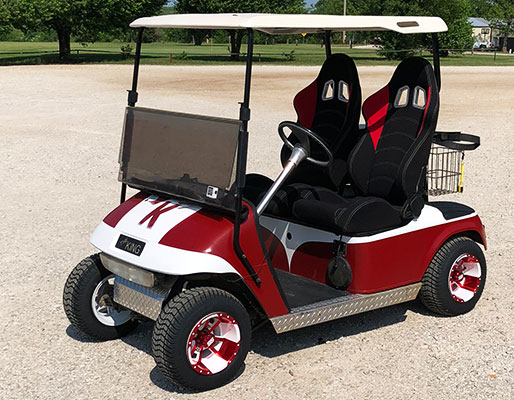 Bob D., OH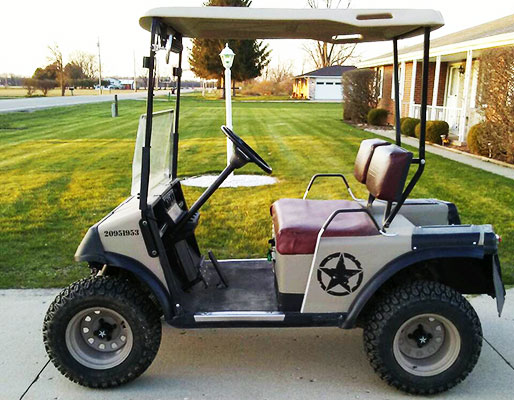 Andy B., MO
Pete C., OK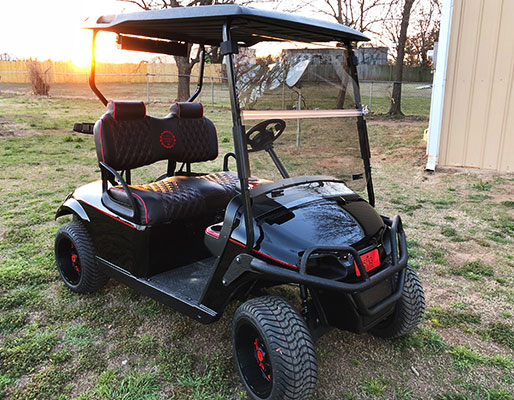 Julio J., FL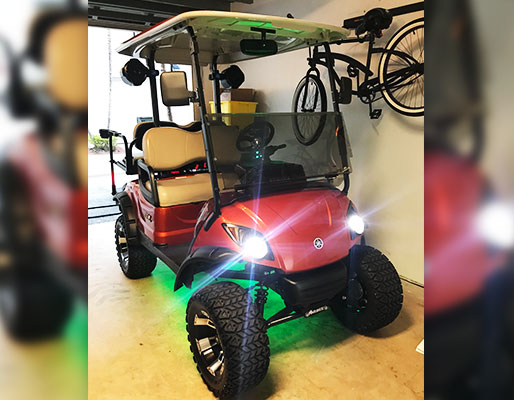 Jacob H., MO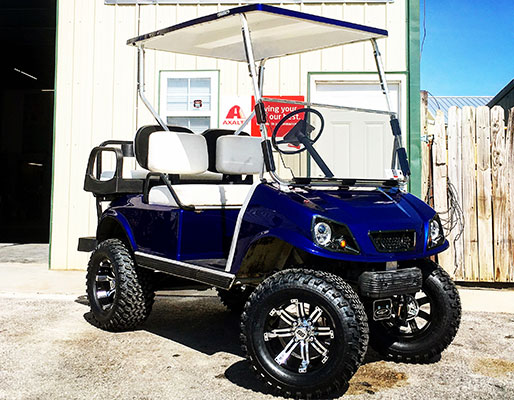 JR J., FL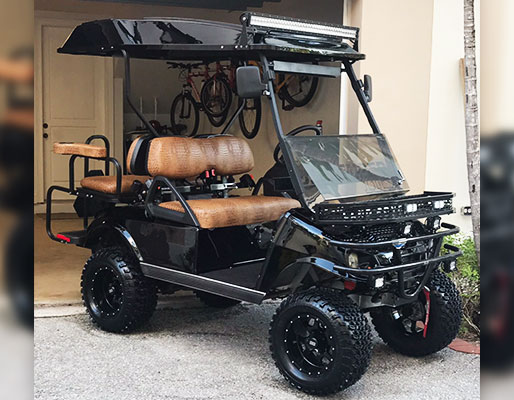 Bobby Q., TN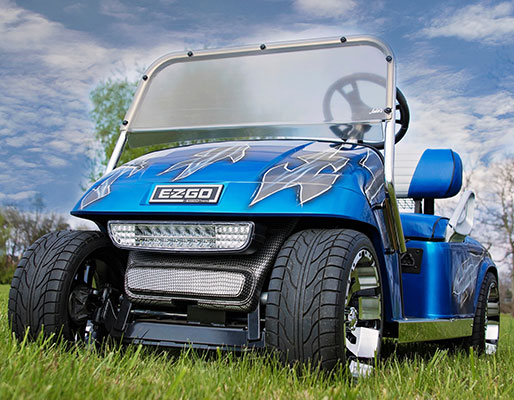 Randall W., LA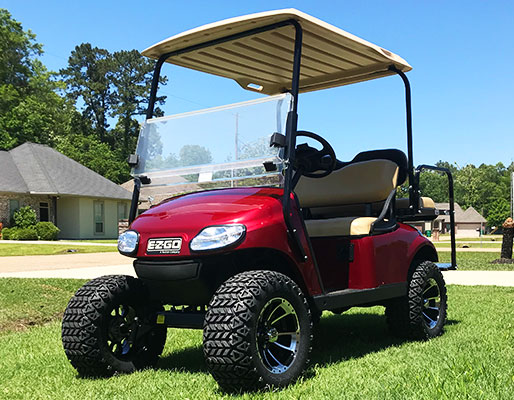 Luke L., GA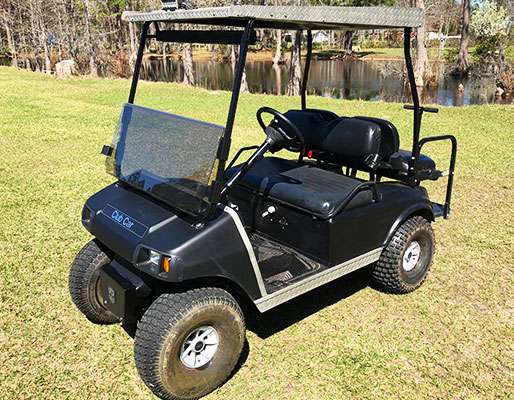 Justin L., LA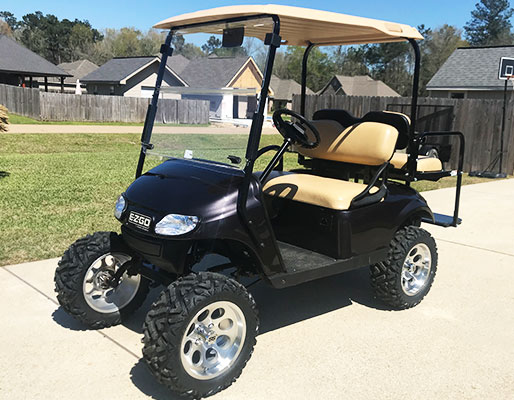 Greg J., UT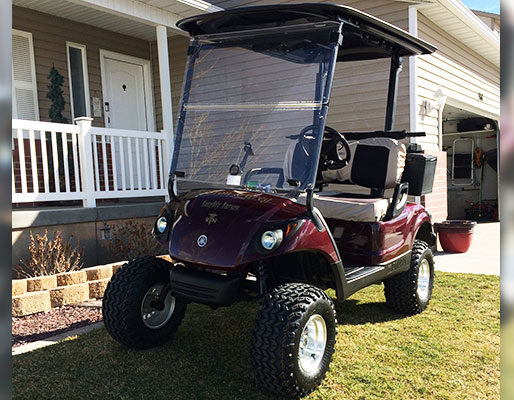 Jeffrey A., FL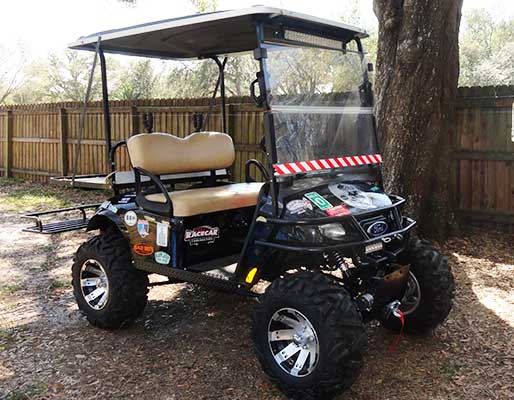 Rudi D., SLP, Mexico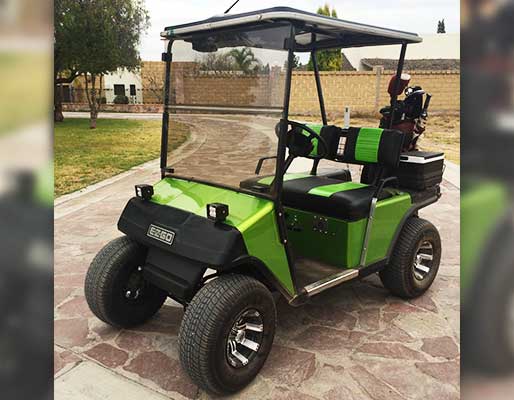 Billy C., TX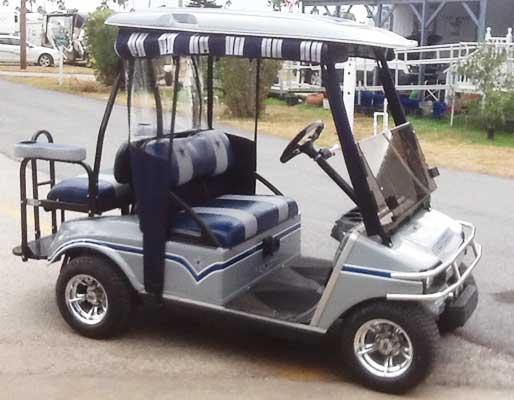 Tom K., WI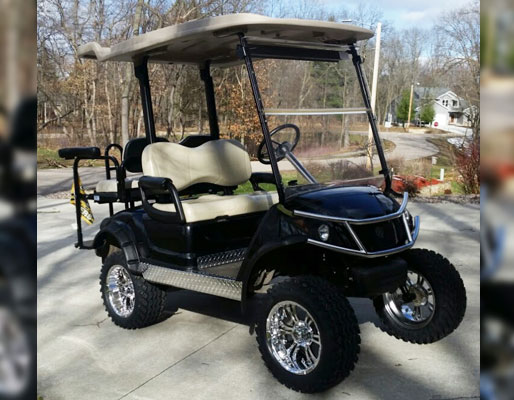 Christopher T., PA
Tony C., TX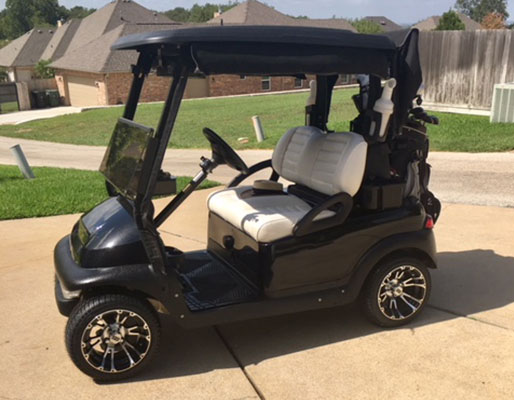 Tom M., MI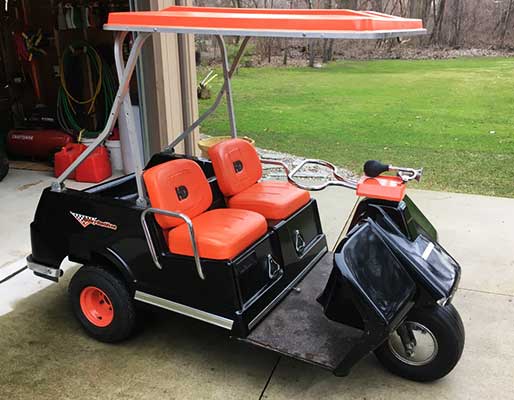 Johanna F., FL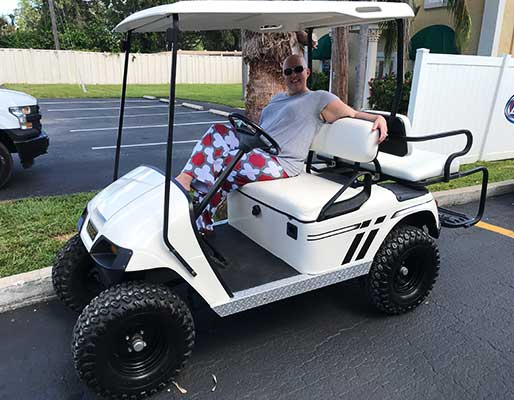 Roger F., TN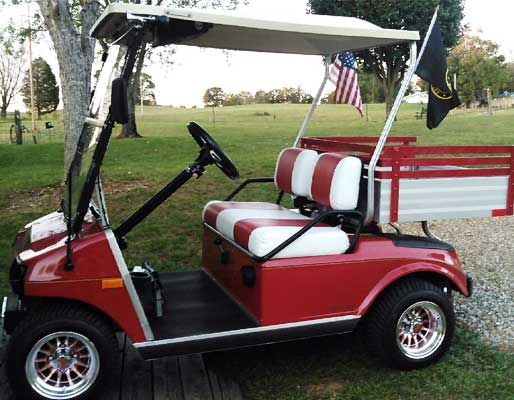 Chad H., FL
Rick T., MN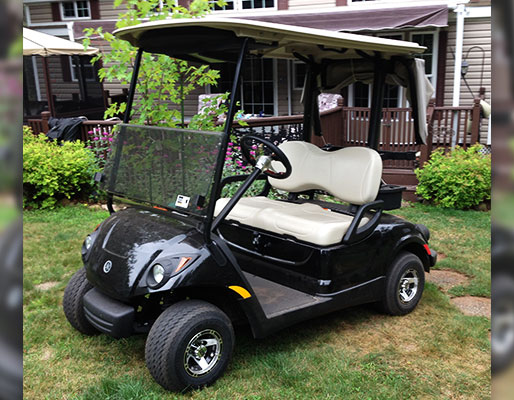 Rudy R., LA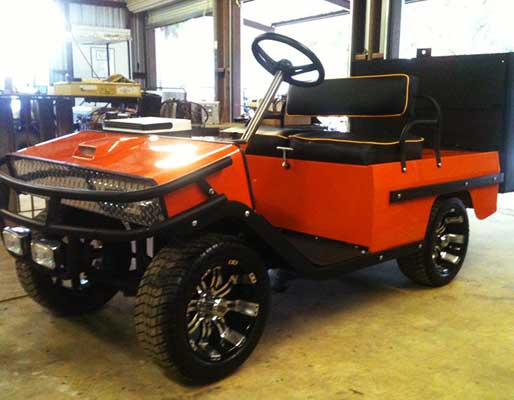 Allen S., IN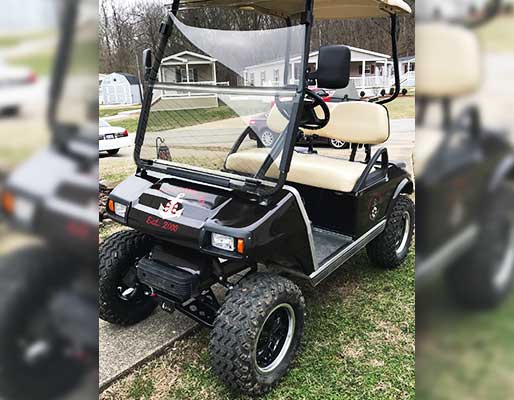 Robert P., NY
Edward M., CT
Gary W., MI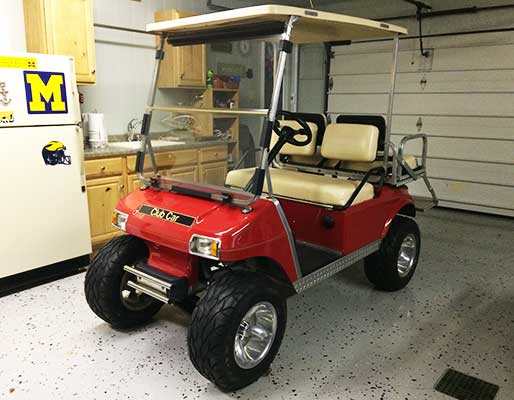 Justin H., TX
Doug W., AB, CANADA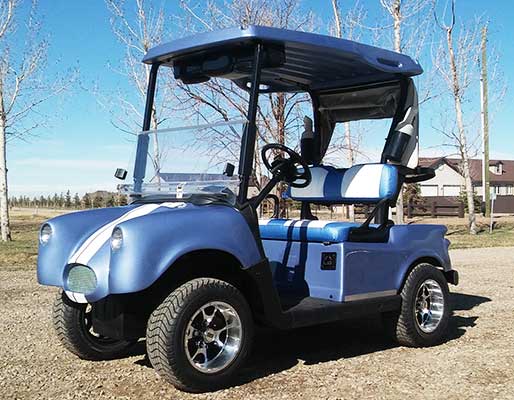 Rodney P., NY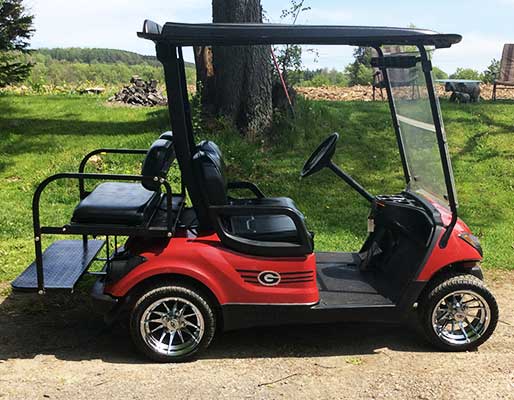 Ira B., MS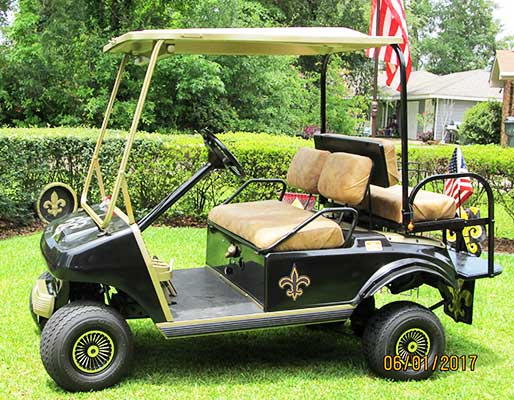 Jim L., GA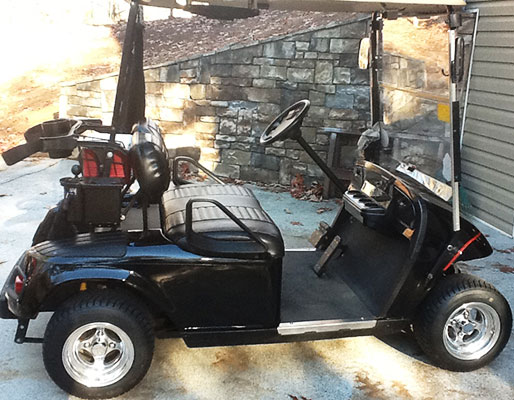 Jared B., FL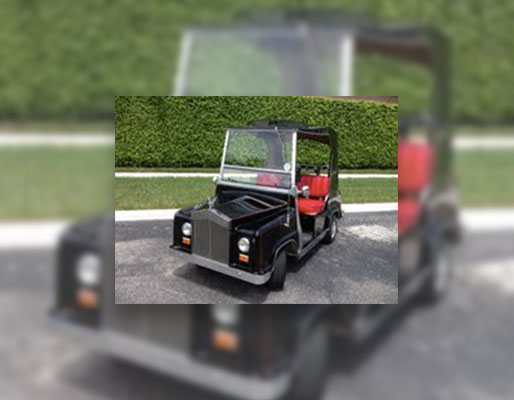 Jeff L., NY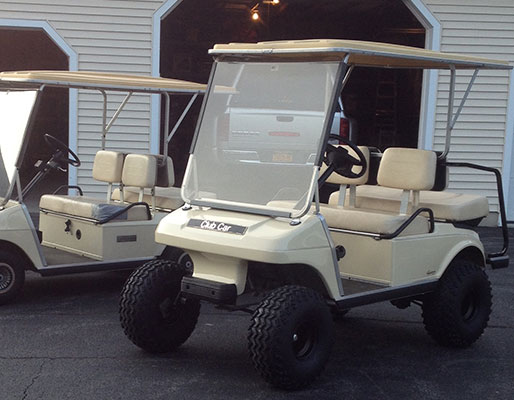 Pau N., IN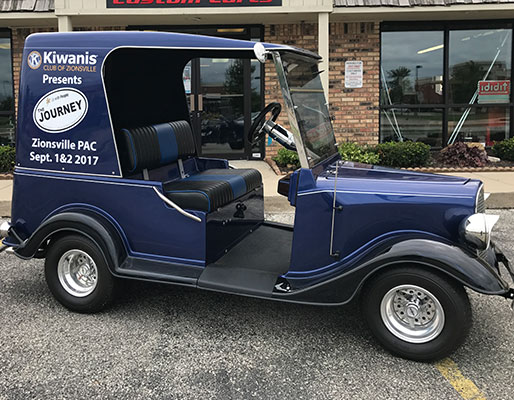 Lee D., CA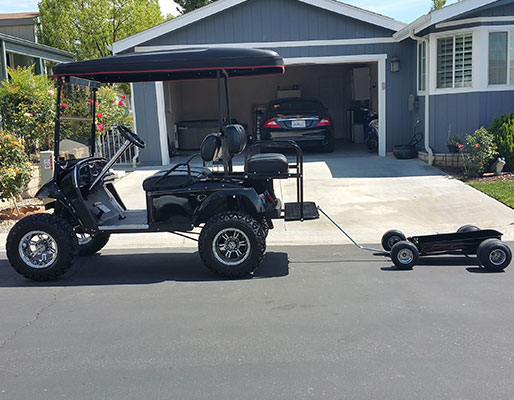 Ric G., NV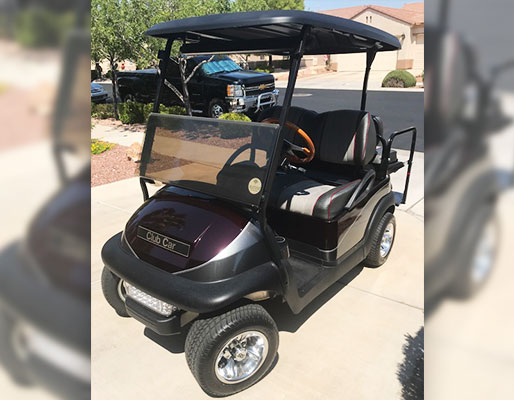 Don L., FL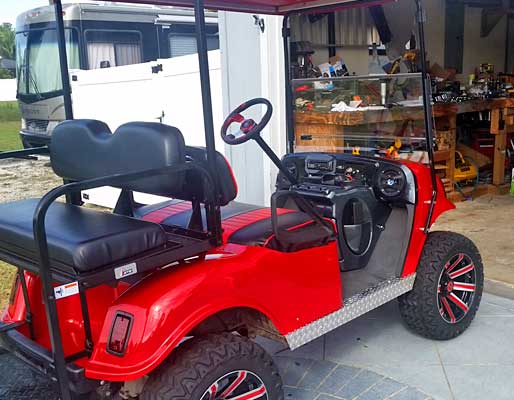 Doug B., AB, CANADA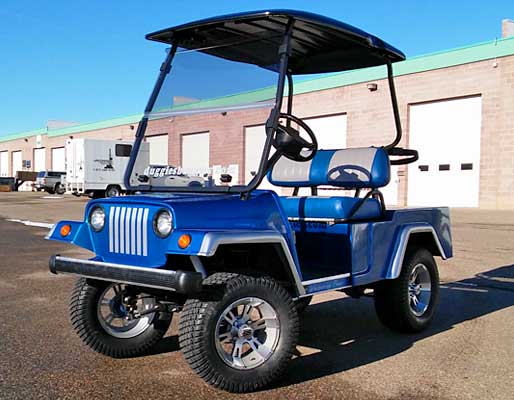 Skip E., FL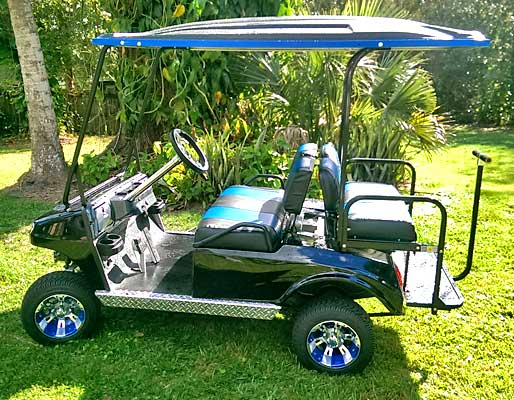 Billy C., TX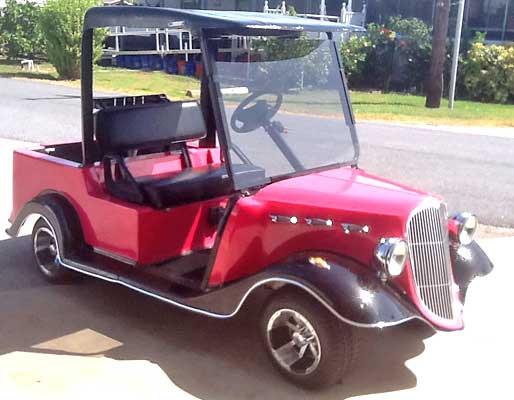 Billy C., TX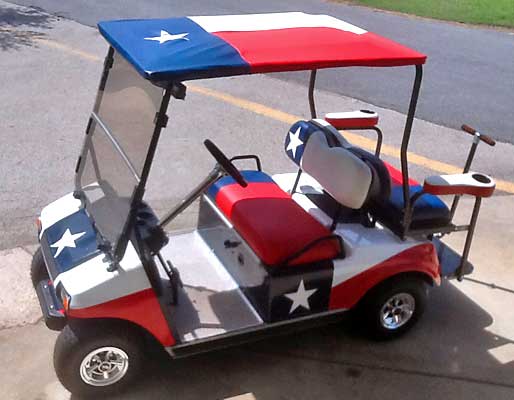 Charlie B., MO
Jose A., PR
Mark D., NJ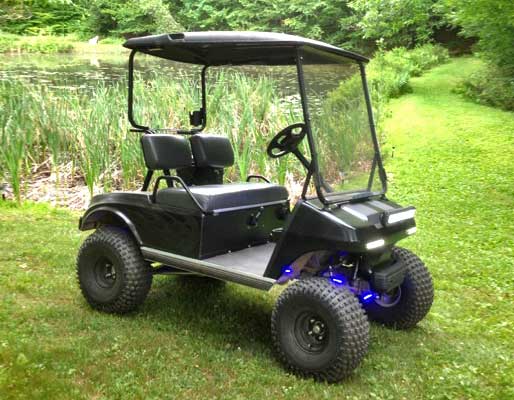 J.R. P., FL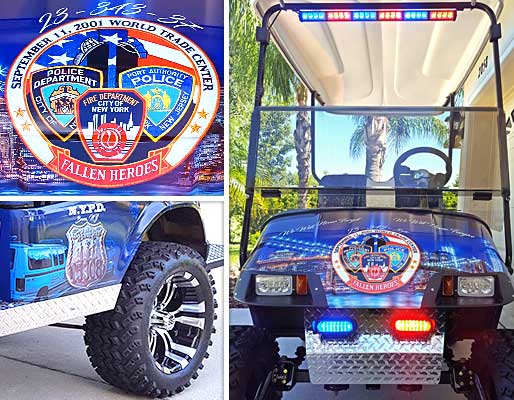 Tony P., FL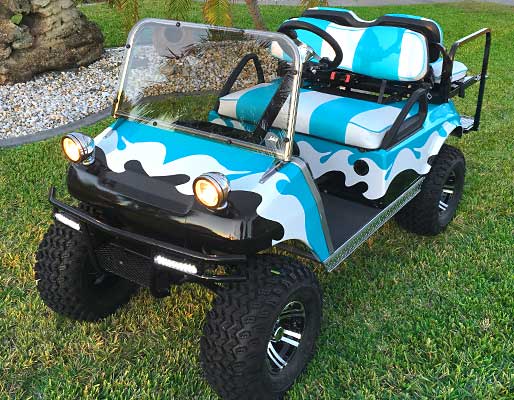 Mark S., PA
Roger B., SC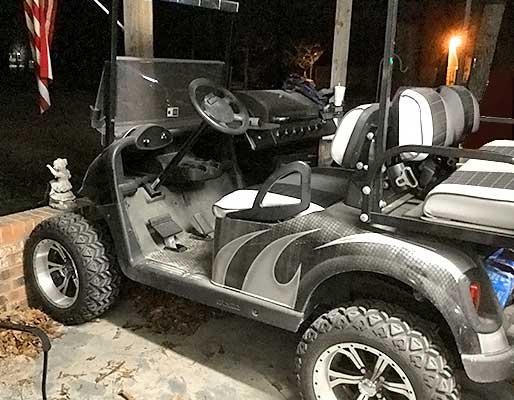 Mark J., IN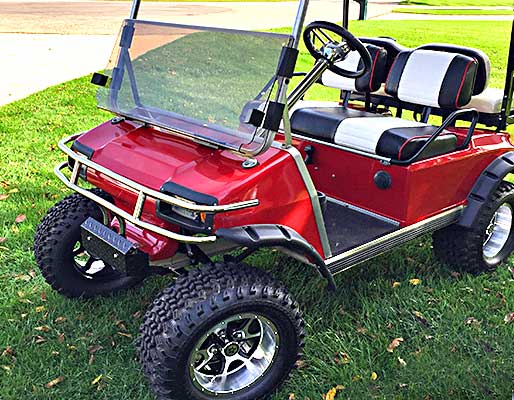 Glenn B., IA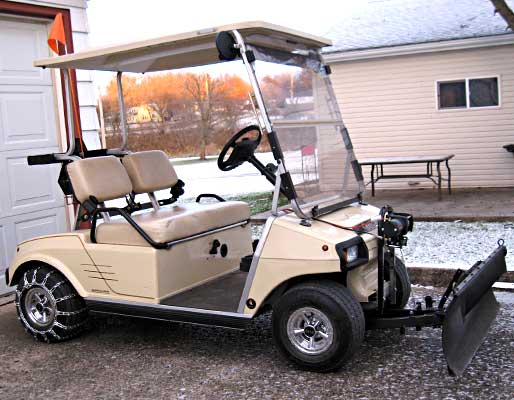 Dave W., WI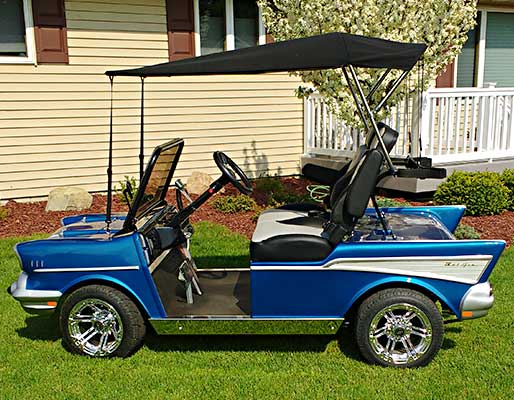 Kerry S., MI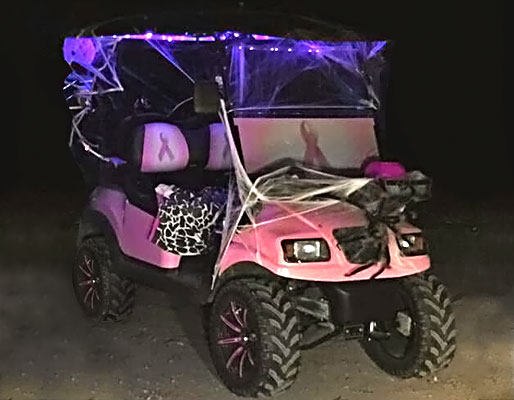 Tom B., IN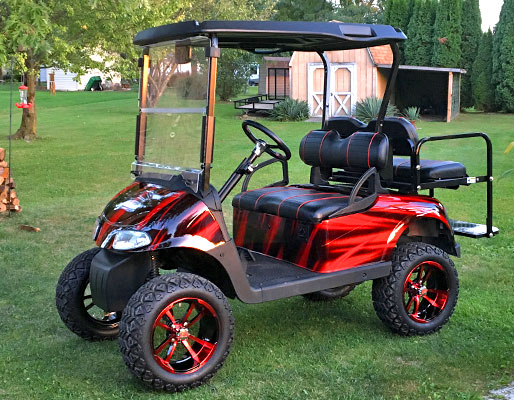 Thomas D., TN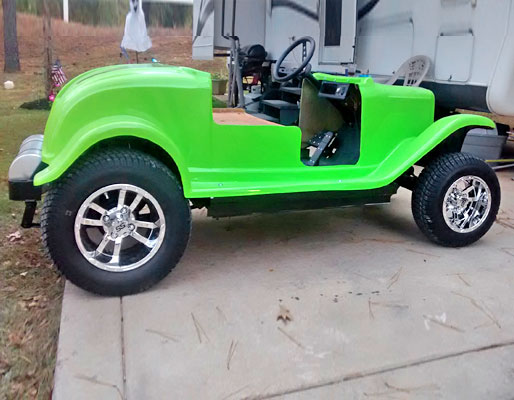 Rusty P., MO
Robert T., OR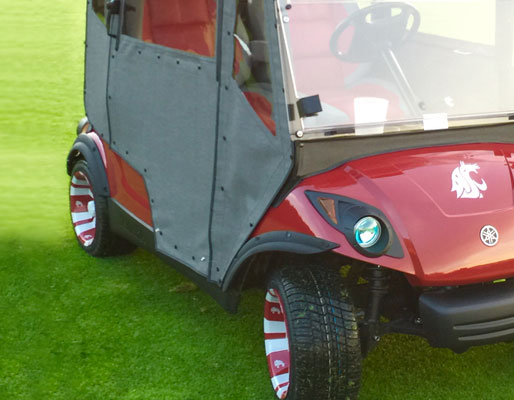 Bob J., FL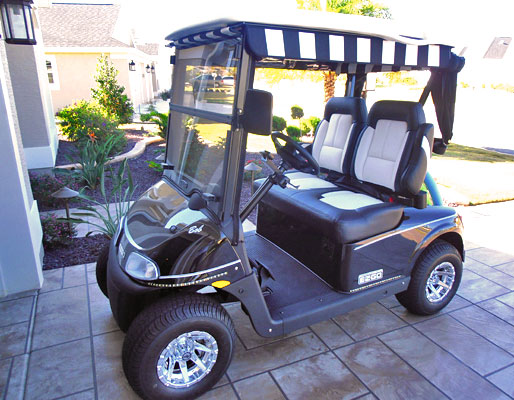 Larry S., MI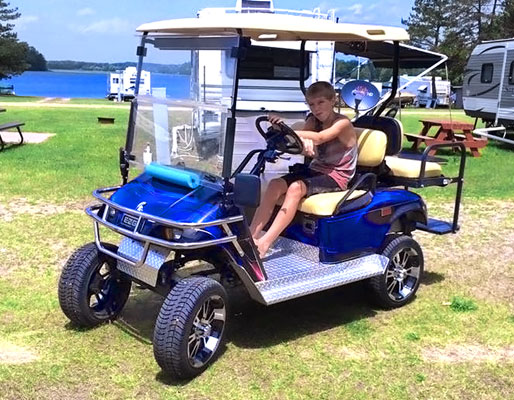 Craig M., MI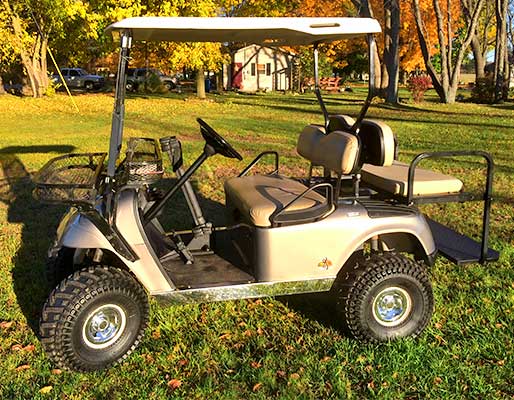 Mike P., NY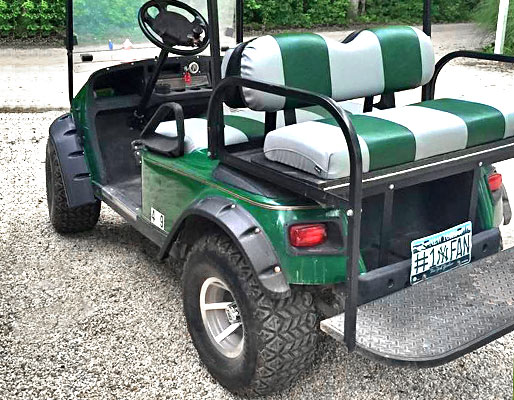 Dave J., WI
Bob H., VA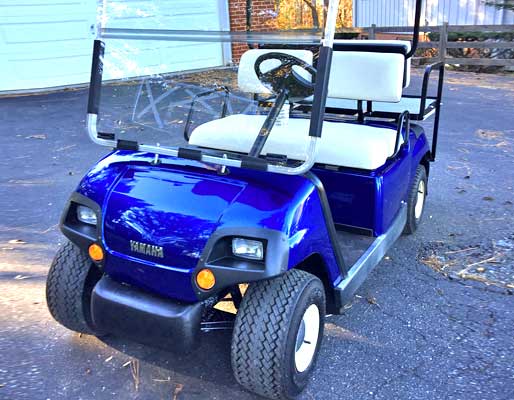 Kathleen S., MI
Trent M., IA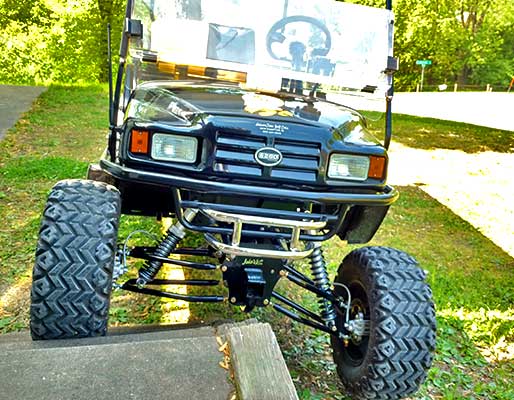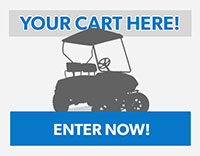 Submit Your Cart!
We'd love to feature your golf cart here, for all to see! Send us a photo and a little information, and we'll show it off right here! New submissions are added weekly.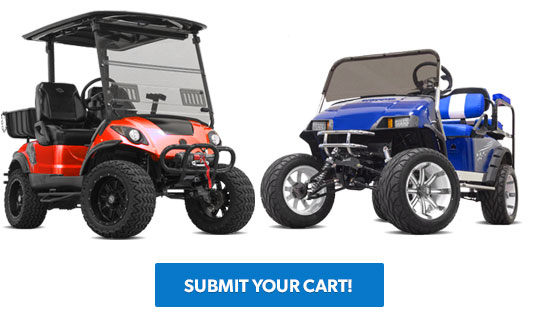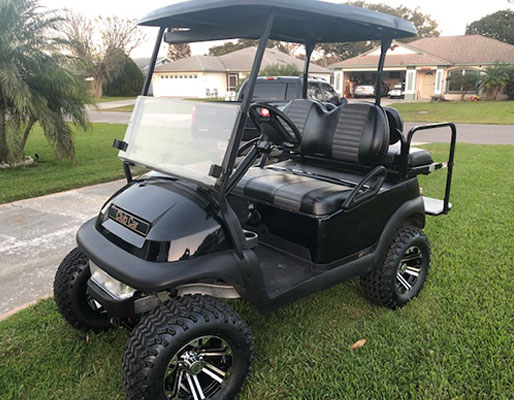 Sleek Black
Cool Ride!
"6" lift, custom wheels,23" tires, custom seats, fold down rear seat, street legal."
- Russ M., FL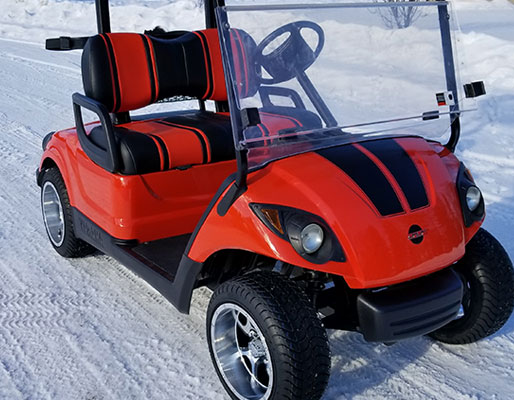 Burning Up the Snow!
Awsome Paint!
"PAINT,SEAT,TIRE AND WHEEL PACKAGE."
- Darrel W., BC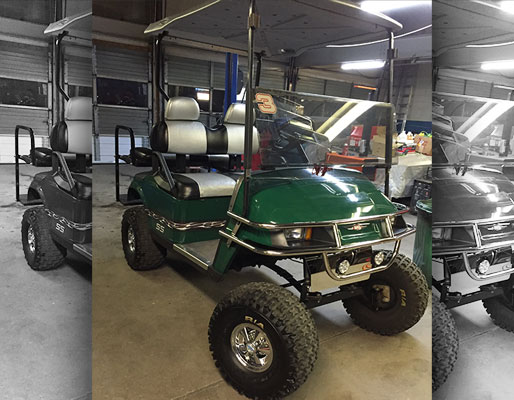 Nice Chrome on Green
Bet it looks great on the course!
"Most all upgrades from the golf course to now I did myself through Buggies Unlimited, Great to deal with and fun to do!"
- Jeff H., VA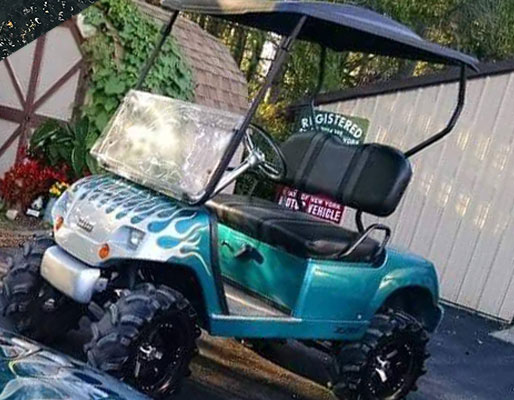 Custom Paint Job
Pairs great with the Camaro, Daniel!
"Matched the cart to my 1994 Camaro's paint scheme and purchased all the parts from your website. I thought it turned out pretty good."
- Daniel H., NY
Awesome Hauling Cart!
Wood accent - nice touch!
"My tires wheels seats windshield lift kit and a whole lot more came from yall i built my GolfCart by myself i have had a lot of fun doing this cart ."
- Larry Y., NC
Sporty Perfection!
Classic Black and White
"Wheel, lights, diamond plate side panel,floor shield,access panel, radio and speaker, ball washer, cooler ,windshield only thing missing is diamond plate kick panel. Restore complete cart and always receive awesome help on all the I need."
- Randy W., LA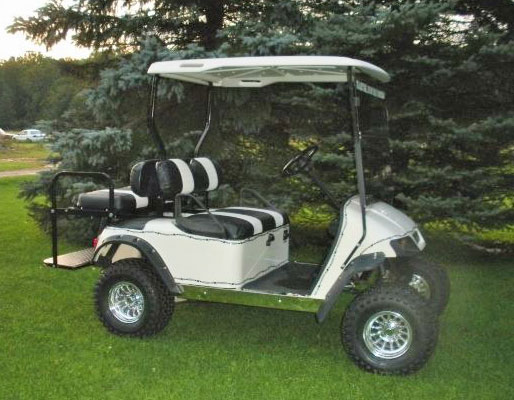 Customized
Classic Black and White
"We have many of upgrades as you can see."
- Kenneth V., PA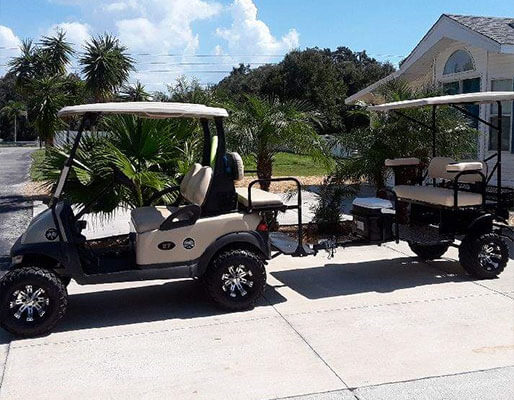 Custom Tow
Classy work!
"My 2007 Club Car Precident. I have added 3" lift, 22" wheels and tires. I also added a matching TAG-A-LONG trailer to allow for six passengers."
- Tim O., FL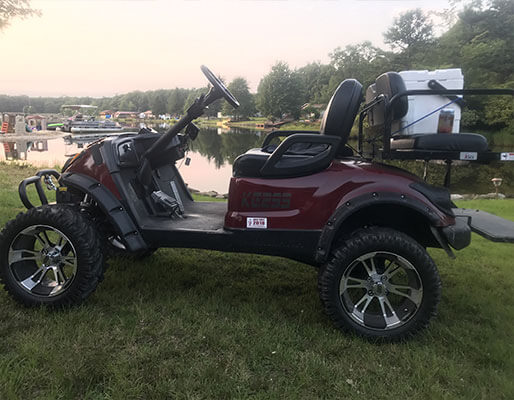 Off Road Custom
Really nice cart, Osten!
"6" long travel lift, bumper, 2500lb winch, 14" wheels, 23" tires, rhino steering wheel, stereo, rear seat, jet kit, clutches and springs, paint, led under glow lights, etc"
- Osten W., WV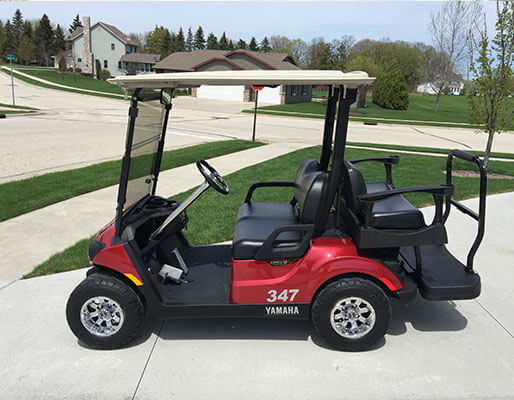 Great Lookin' Yamaha
"Great Prices and Service"
- Kevin G., WI
Jake's Proud
Fantastic Jake's Customization
"2003 ez go txt. 5" Jake's axle drop, 2" spacers in the front, 1" inch space in the rear, tinted windshield, wood grain dash, stainless steering column, carbon firber/ stainless steering wheel, front light wrapped in neo chrome film, front stainless bumper, new black roof, roof rack, bluetooth speaker, stainless rocker covers, carbon fiber toge switch panel for horn, and lights,5 panel mirror, red underbody neons, air horns, 14" gtw wheels on 23" tires. The rear Jake's stainless bumper has been customized to accommodate the rear seat. The seats have been redone at a local upholstery shop, and the cart has been repainted in a fireman tribute theme that includes golf lead, and airbrushing"
- Donald K., PA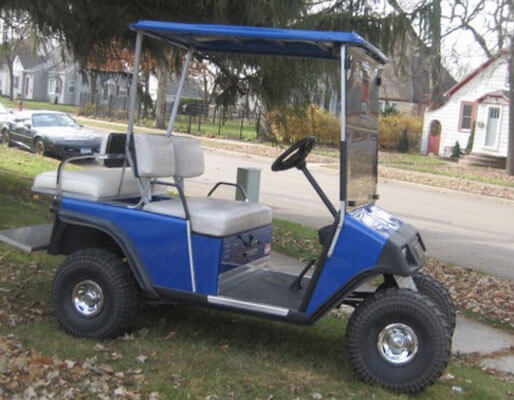 Welcome Back 1992!
Giving it new life!
"1992 Marathon. Was red when I bought it, and it did not have a lift on it. So, I had to paint it, installed the lift with some bigger tires and rims, added the back seat, lights, and mirror. Had to have the motor rebuilt, because it was blown. Love it!! Did a lot of off raiding with it!"
- Darren T., MN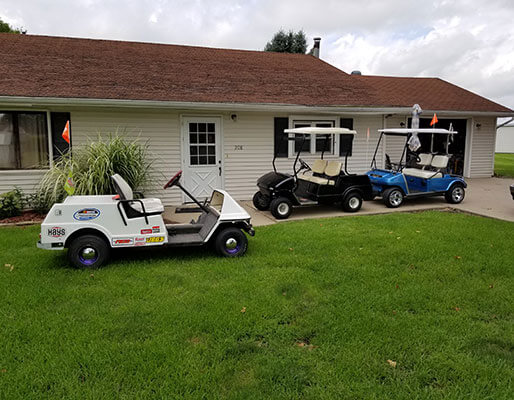 Harleys!
They look great, too, Tom!
"2 motor rebuilds on the Harley's both run great"
- Tom S., IA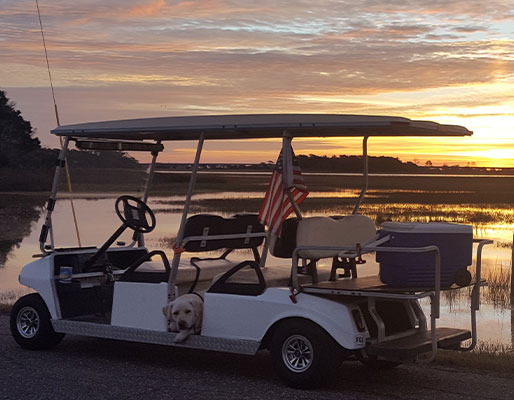 Keepin' It Going!
Glad we can help keep it running smooth for you, Ken!
"Buggies Unlimited parts , helps keep our club car limo well maintained."
- Ken G., FL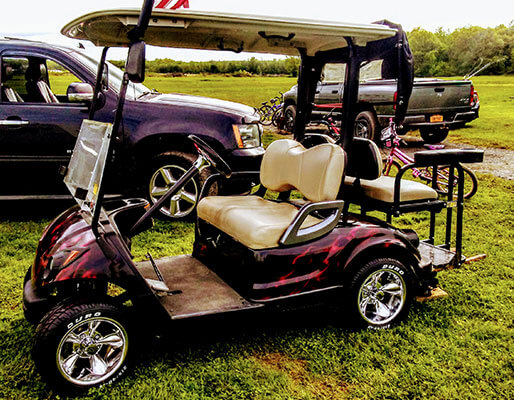 Nice Ride, Indeed!
It's looking great, Jeff! Can't wait to see the next post.
"Ordered new wheels and tires today and cant wait to put them on my ride!! I wanted to show my cart now and post one later with my new custom sneaks!!"
- Jeff J., NY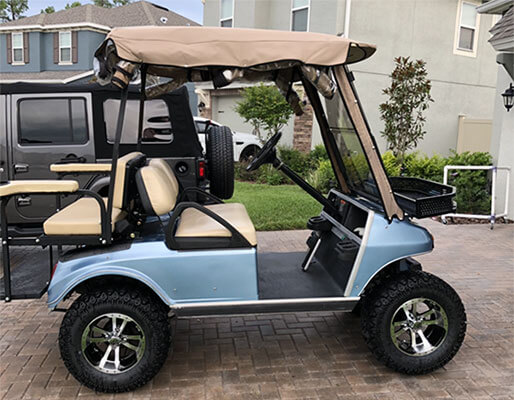 Sweet Ride!
The customization look great!
"2004 Club Car DS with 6" GTW double a arm lift. 23" All terrain recon tires and 12" Storm Trooper wheels. Buggies unlimited rear flip seat kit with arm rests. Always great doing business with Buggies Unlimited"
- Dave W., FL
Nice Lift!
Keep up the good work, Chuck!
"4 inch lift and 20 inch wheel combo"
- Chuck A., PA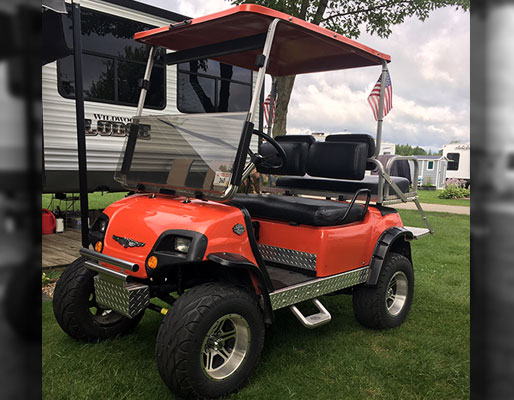 Nice Yamaha!
Great looking G16, Mike!
"96' G-16. Stripped down to the frame. Put on rear seat and added lights. Added wheels and tires and spacers from Buggies Unlimited for the final touch. Did all the work except paint job with a buddy of mine."
- Mike E, MI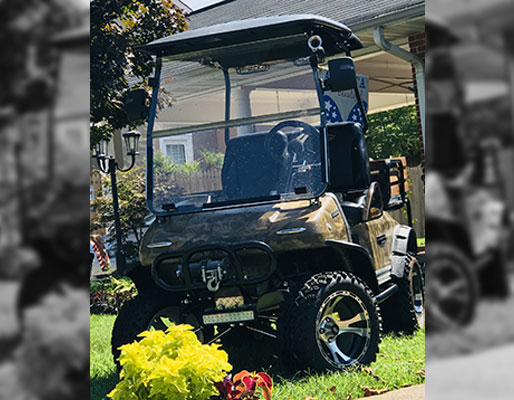 North Carolina Custom
Cart looks mean and awesome, Larr! Thanks for sharing!
"I have built my golf cart from tha ground up and Buggies Unlimitted has helped me in so many ways I couldn't have done it without y'all from the tires and wheels to the windshield the seats back my lights lift kit I want to thank y'all and I will be buying more parts from y'all."
- Larr Y, NC
Onward bound in New York
Congrats on the new Onward - looks great! Can't wait to see it with new accessories!
"Just purchased a 2019 CLUB CAR ONWARD and looking forward to purchasing accessories for it. Hoping to receive your new catalog real soon."
- John A, NY
Way to Go with the EZ-GO!
Wow! This looks so cool! Love the paint job. And that custom trailer - that's a great idea.
"My cart is an 96 EZ-GO TXT. I spent last winter customizing it with my truck in mind. It has GM paint to match my truck along with the same seat cover style. Many Buggies Unlimited parts went into the build. The trailer is a custom build from an 05 cart my son and I cut up. We created a twin to the cart using many of the same accessories."
- David S, MA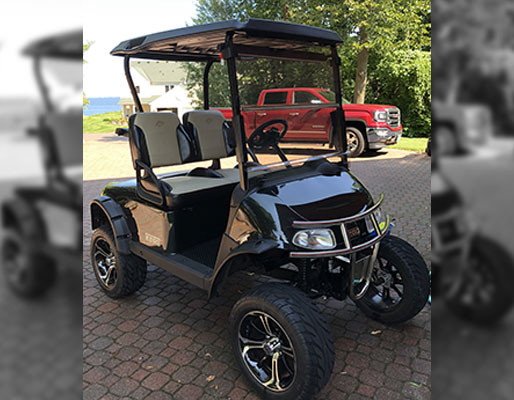 Fantastic Ride!
We're so happy your service experience was fantastic. The cart looks amazing!
"6 inch lift, Suite Seats, Push Bar, Fender Flares 23X10X14 wheels and Tires. Fantastic customer service and timely shipping."
- Ray R, MN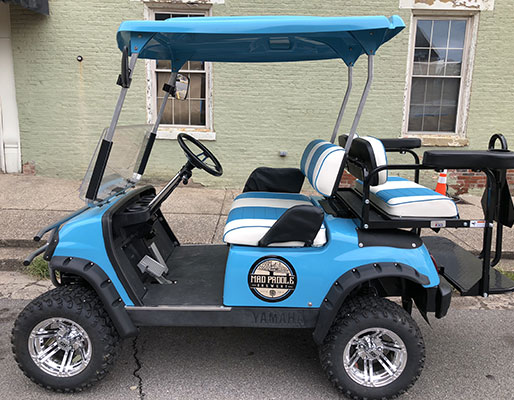 Mad Customization
Thanks for sharing this amazing cart customization work, Mike. You, John and Sedam Upholstery have created a masterpiece.
"This cart was custom built for Mad Paddle Brewerie in Madison In. it has a 6 inch Rhox A arm lift kit. It has a custom paint job matching Mad Paddles colors. The seats where custom made by Sedam Upholstery along with the custom made front arm rest pads .The G T W rear flip seat was added along with street legal led lights. The tires n wheels were added along with the Mad Paddle logo which was hand painted by John Backus .The Cart has many custom features. This cart was built by Mike Bear of BearKat Kustoms in Hanover, Indiana. Many of our parts come from Buggies"
- Mike B, IN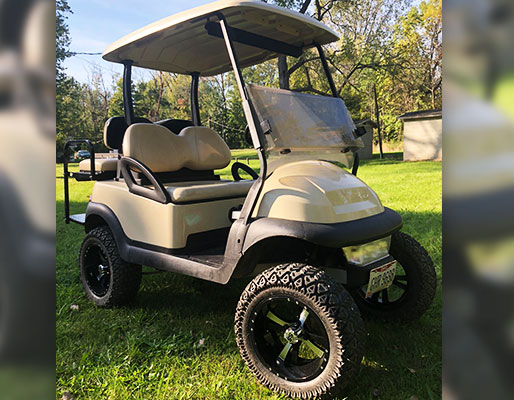 A Good Ole Black & Tan
You have a great looking cart, David! That color combo is always a winner. The upgrades are awesome and we are happy that we could help! Thank you for being such a loyal customer!
"Great product and fast shipping!"
- David D, OH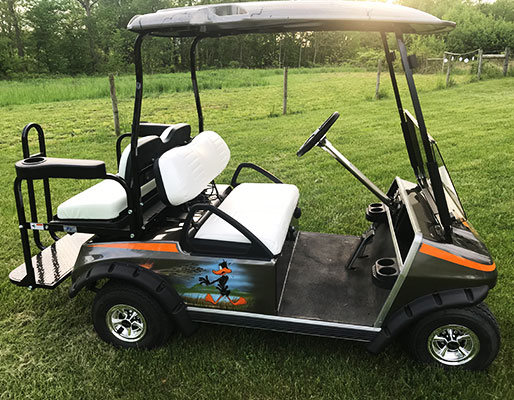 Looney Golf Cart
We love the upgrades and the custom paint job! Thank you for sending this in, Kevin! We're always happy to help in any of your golf cart needs!
"Got this golf cart at an auction in horrible shape. Thanks to Buggies Unlimited, I was able to do a nice build for trap shooting."
- Kevin J, OH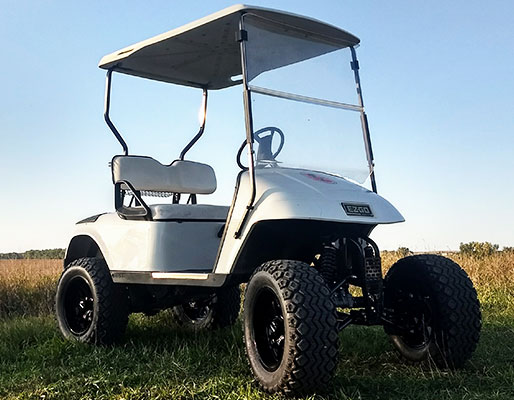 North Dakota EZGO
Good looking golf cart, Eric! Thank you for submitting this!
"1997 EZGO with 7" long travel lift kit, 24" tires on 14" wheels."
- Eric K, ND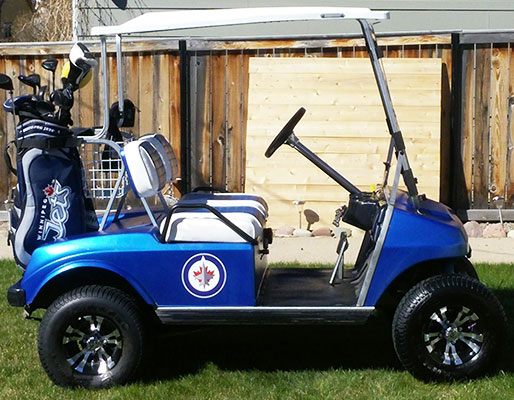 Go Jets!
This cart looks great and represents the team well! We're glad we could assist in making this cart all that it is!
"Installed a Jake's 3 in. lift kit and custom wheels and tires from Buggies Unlimited. Dash and steering wheel were purchased from there as well."
- Rick T, AB, Canada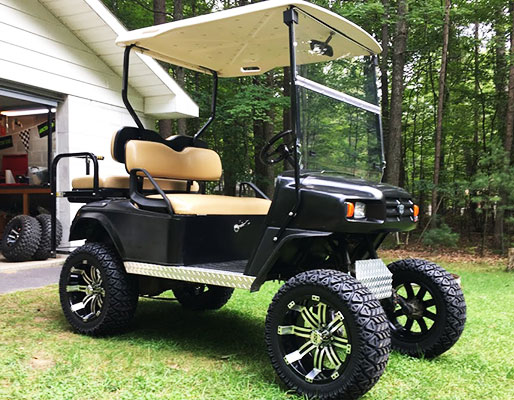 Black & Tan
Great looking cart, Shaun! Thank you for submitting this to us!
"1998 EZGO TXT with ST front end. Had 7 inch lift. 14inch rims, 23 inch tires"
- Shaun M, MI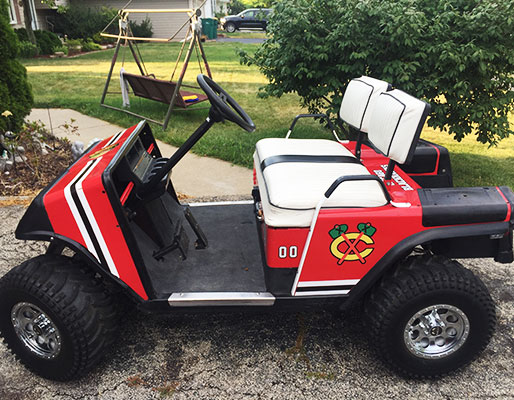 Go Hawks!!
This is a great looking cart and I'm sure the Blackhawks would love it!
"Changed electrical components, stater generator, solenoid, voltage regulator, and rewired."
- James L, IL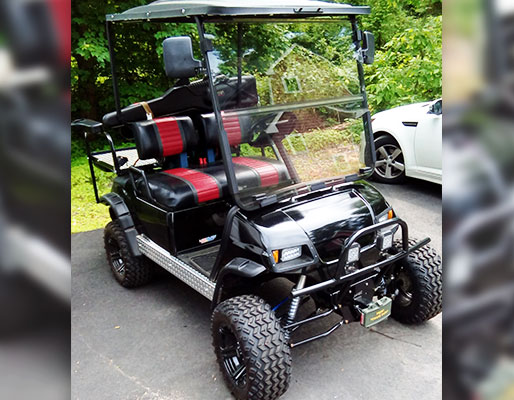 Paul's Baby
THANK YOU for sending this in, Paul!! She is a beauty!
"My baby is a Yamaha G22 gas. The theme is for clay shooting. The raised front is a Jake's Long travel kit with extensions on the back wheels. The seats where done over with black, red and gray. The rear seat was also added on. Along with other add ons was the windshield, rear end protective panel, and shot gun holder. There is under carriage lighting through out and into the cab. Also, There is a TRAIN AIR HORN beneath the rear seat at 152 decibels. Great for parades."
- Paul R, RI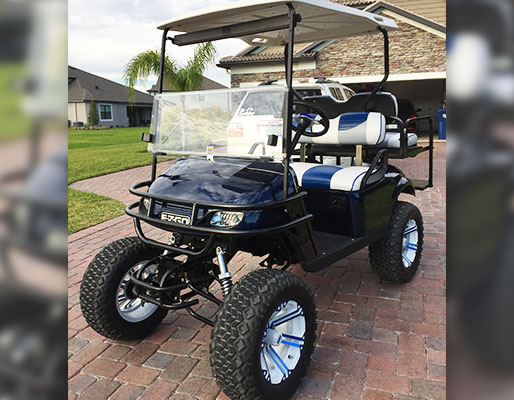 Tricked Out EZGO
This cart is amazing! We love the attention to detail and the color palette.
"Frame off build, Jakes Lift Kit, High Speed Motor, controller, HD wire kit, Lithium Battery and 2 speed rear end."
- Greg H, FL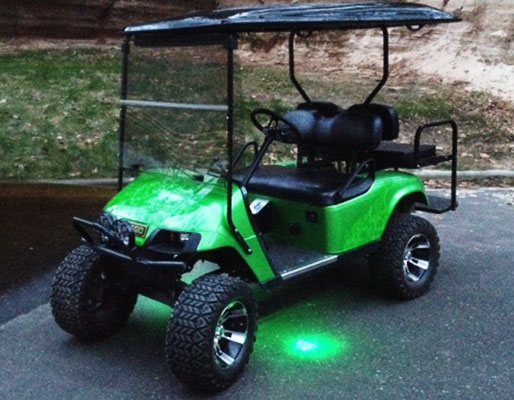 The Green Goblin
This is one mean looking cart! Great job, Tom!!
"2004 EZGO with Jakes 5 inch lift kit, heavy duty rear springs, rear disc brakes, 23x10,5-12 tires on Yellow Jacket Wheels, high torque clutch, cold air intake, zemco header, underbody lights, strobe lights, air horn, carbon fiber dash, steering wheel, floor shifter, flip flop rear seat, push bar, gloss black extended roof and cart is painted synergy green with ghost flames. Thanks Buggies Unlimited for a bunch of great parts."
- Tom F, WI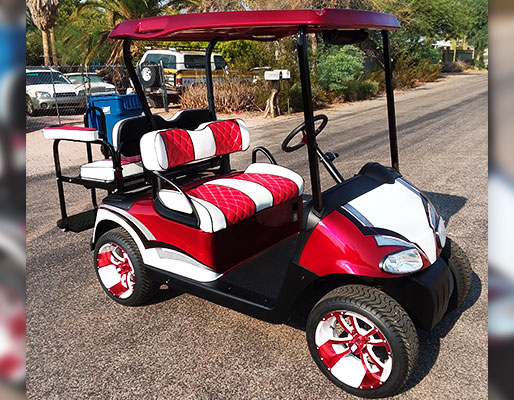 Red & White
This customization is perfect with these wheels. From top to bottom, it's a beautiful cart!
"'15 RXV. Built AROUND the wheels. Bling bling no chrome. All custom."
- Frank G, AZ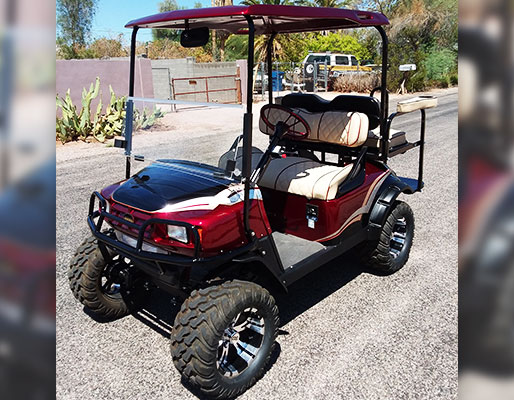 Ruby Red
This custom cart looks great! Thank you for sending this in and sharing!
"'04 ST350 workhorse. Bare chassis to what you see, with lots of parts from B.U. Built by Next Level Carts, Apache Junction, AZ."
- Frank G, AZ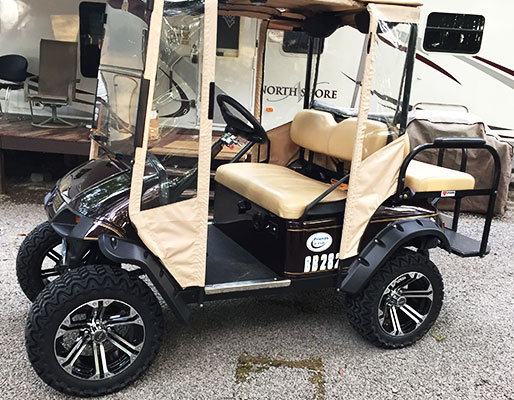 All Buggies!
Thank you for being such a loyal customer, Alan! Your cart looks great!!
"All the extras are from BUGGIES UNLIMITED!!!!!!!"
- Alan P, WV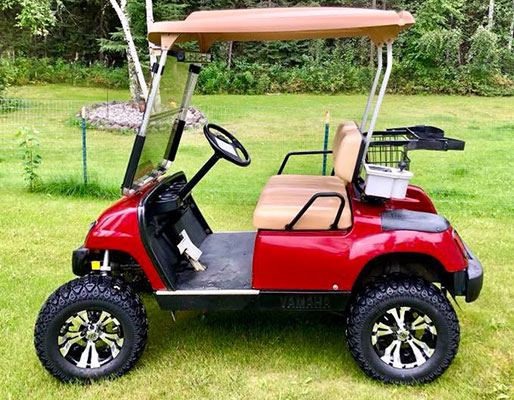 Red Rider
The lift, wheel, and tire combo looks great!!
"2005 Yamaha G22 with a Jakes 6" long travel lift kit and 23X10.5-12 4PR GTW Recon All-Terrain Tires, and GTW Vampire 12x7 Machined Black Rims. Still need to install my rear seat but that's for another day."
- Rich H, AK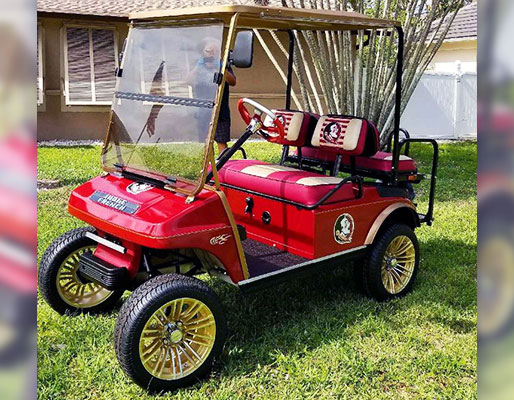 Go Noles!
Dave, your friend is lucky to have your help! This is a great team cart!
"Built this for a friend. This was originally a 1987 Club Car. All custom now."
- Dean W, FL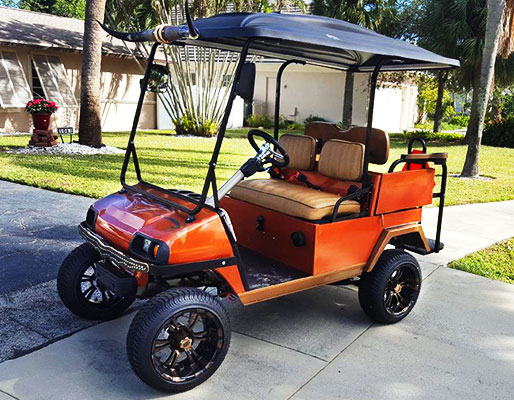 The Fireball
This is a head turning cart! Thank you for sending us this photo, Dean!
"This cart started out as a junk CarryAll and was converted to what you see now. Custom interior, custom Fireball paint that reflects many colors. Everything added for street legal use. Horns on the front top and now it is getting a 69HP Honda 750cc motorcycle engine. Nearly complete. Many other custom extras."
- Dean W, FL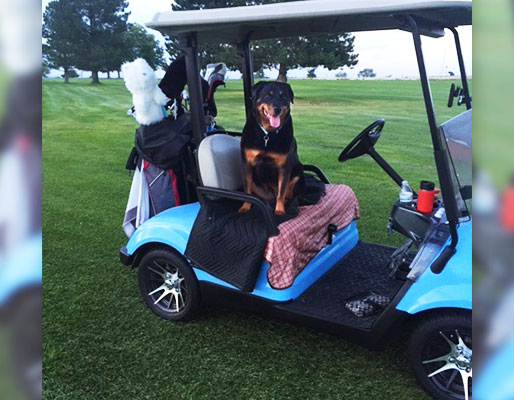 Callie's Favorite Ride!
Golfing in style! This not only looks good, but it also feels great to ride in with the heated seats and fan!! Great job, Ron!
"12-inch tires, new body, lights, tail lights, carpet heated seat, ceiling fan, and carbon fiber dash. Also, my golf buddy Callie!!"
- Ron T, ID
Big Bad Wolf
This is a cart that would make the Wolfpack proud! Go State!
"2002 EZGO TXT 36 v. Jake's long travel suspension with front brakes, Alltrax 400-amp controller, Trojan T 105 batteries, 6 hp motor, 4 ga. wires, new heavy duty rear leaf springs and shocks, all metal supports for top and rear seat covered with lineX, new seat covers, steering wheel, voltage regulator, nerf bars, DOT windshield, Fusion EFX radial tires (not shown), rear view mirrors, dash cover, new rear brakes and cables. Buggies Unlimited sales and tech support is great, especially Ray."
- Greg S, NC
Riding in Style
Great idea to get a cover to keep this beauty looking good at all times! The upgrades look really good and we're so happy that we could you help out with this project!
"I upgraded the Leaf Springs (Heavy duty ones) also have purchased covers to keep it like new. Also some other things as well. I love Buggies Unlimited... you have everything you can imagine to repair, or redo a golf cart to make it your own "Style"!! Thanks for being there guys!!"
- David B, NY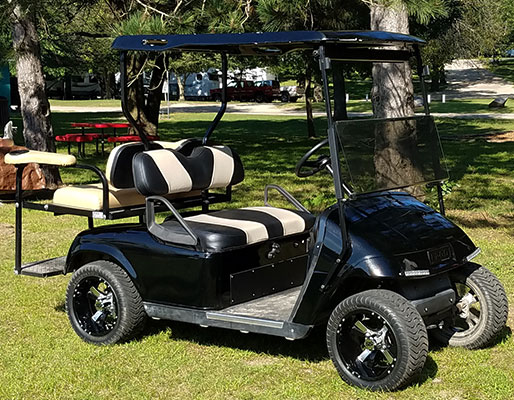 Black Metal & Carbon Fiber
The modifications to this cart looks great! Thank you for sending in this photo of your cart!
"Black with metal flake paint. 12 inch wheels and tires. Full carbon fiber dash and stereo. Under lights custom headlight set up. Now has a newer EZGO roof on it."
- Shane O, MN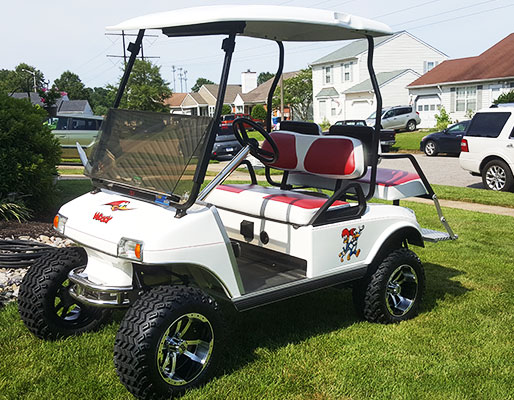 The Woody Cart
Gotta love Woody Woodpecker and gotta love this cart!! Great job, Gregory. We're happy that we could help you out with this build!
"Thanks to Shannon at Buggies Unlimited for the help with the Jake's 6" spindle lift, heavy duty springs, shocks, bushings, and wheel/tire combo! New fresh look and ride for our campground cruiser."
- Todd W, VA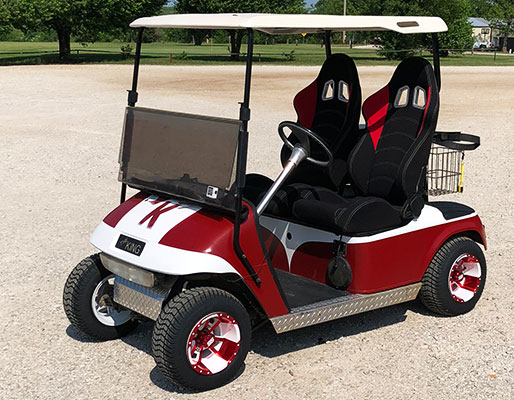 Red Racer
People will definitely notice when you drive by in this cart! This looks great and sounds great!
"Wheels red and white storms, racing seats, water mister for when it gets hot, and 600 watt stereo system with 6 speakers and a sub."
- Kyndol K, OK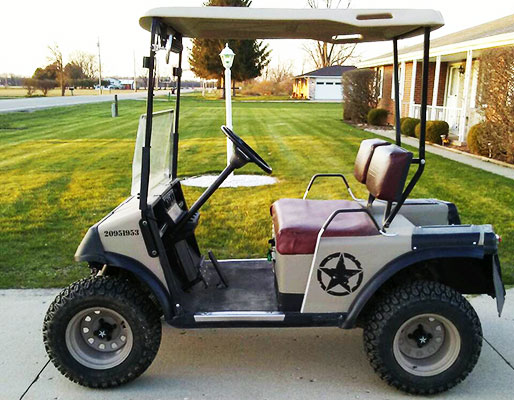 Army Cart
No this is the type of father and son project I would want to do! You guys did great!
"1991 E-Z-GO Marathon 3pg 4" lift, 22" tires on steel wheels, Army tan. Father and son project."
- Bob D, OH
Blacked Out
Andy, you did a great job with this cart! Thank you for sending this in and being such an awesome customer!
"Graphite paint, STI HD6 wheels, Bluetooth speakers, LED headlights. My experience with Buggies Unlimited has always been great."
- Andy B, MO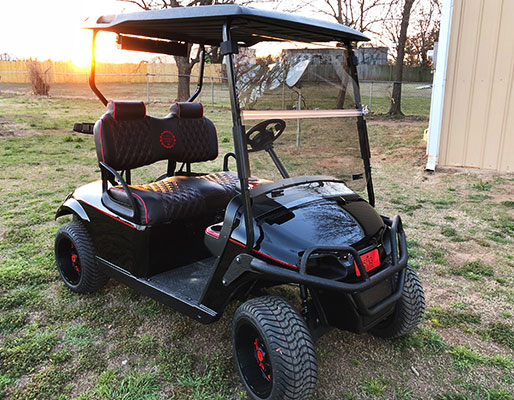 Black & Red E-Z-GO
This is an amazing looking cart! Thank you for sending in this photo, Pete!
"2014 E-Z-GO TXT. New seat, brush guard, soundbar, 12" custom wheels, line x on all the body trim, top and brush guard. Buggies Unlimited was great!"
- Pete C, OK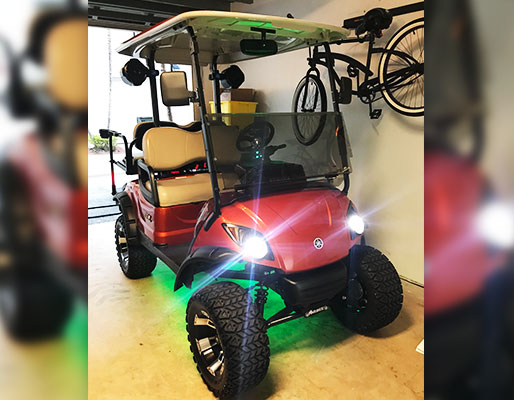 Red & Green Street Machine
Amazing work, Julio! This cart is ready for the road and doing it in style!
"Worked with Madison, she helped with the street legal things that I needed plus gave me the best prices!"
- Julio J, FL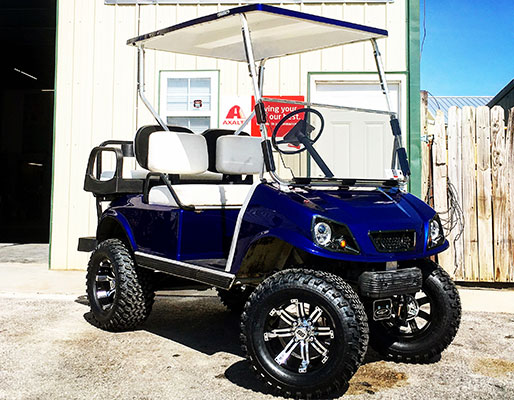 Club Car Blue Beauty
From top to bottom, this is one sweet ride!! We love what you did with this Club Car. Thank you for being such a great customer!
"It's a 1991 Club Car with a 6" lift, 14" wheels with 23" tires. Everything I've gotten from Buggies Unlimited has been spot on great quality stuff!"
- Jacob H, MO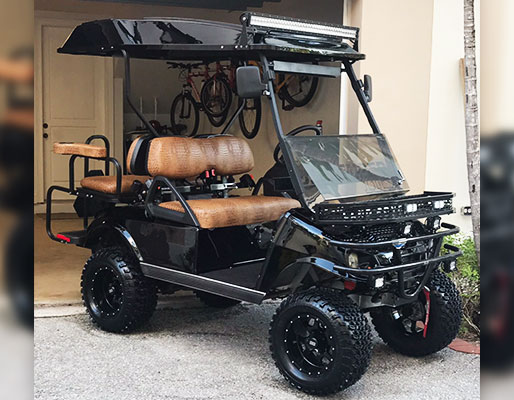 Florida Swamp Monster
WOW! We love this cart! The all black with the brown leather seats looks amazing! We know that heads are turning when you ride by in this! We are very happy that we could help you with this beautiful golf cart!
"Madison helps a lot with my orders."
- JR J, FL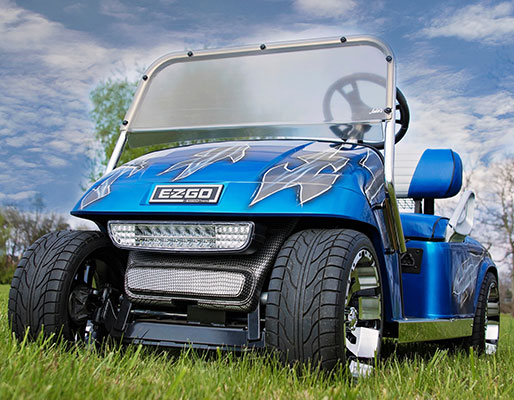 Blue E-Z-LO
This is one sweet ride! We love the colors and all of the details. Great job, Bobby!
"Jakes sport windshield and rocker panels."
- Bobby Q, TN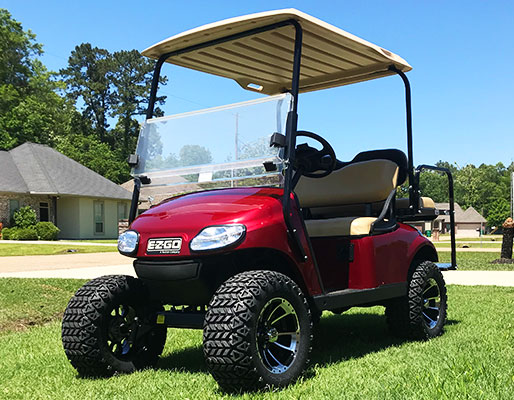 Ruby Red Beauty
This is one beautiful cart! You did a great job on this one, Randall!
"2014 EZGO TXT48... 12" rims with 23" AT tires, GTW drop axle lift kit, GTW light kit, rear flip seat, Ford Ruby Red paint"
- Randall W, LA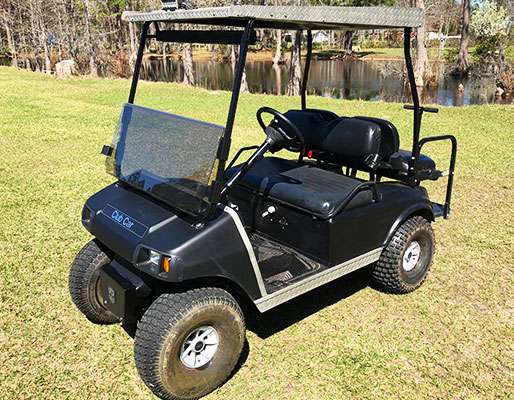 1988 Club Car DS
Luke, you did a great job with this rebuild! We always love to see what our customers' carts look like!
"I took this 1988 Club Car DS and totally rebuilt it from the frame up with a new body, a lift kit from Buggies Unlimited, a 400 AMP Alltrax controller and 23 1/2" tires. Rear seat and windshield also from Buggies Unlimited.
My experience with Buggies Unlimited has always been great- I usually receive orders the next day, and the phone support is great too."
- Luke L, GA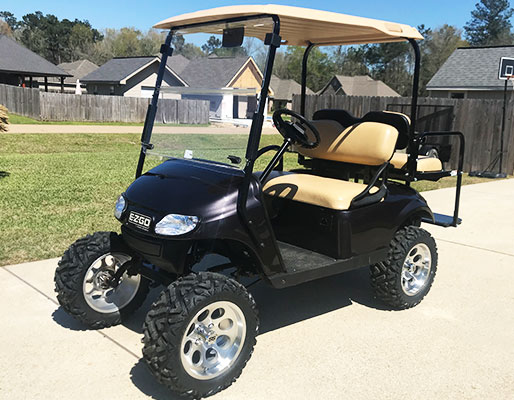 Black & Tan E-Z-GO
This sweet ride comes from good ole Louisiana! Can't miss this cart when it drives by! This look great Justin!
"2016 EZGO TXT48 - 6" spindle lift, 14" rims, 23" tires, rear flip seat, towing package, head/tail light kit, clear windshield, custom painted GM Iridium"
- Justin L, LA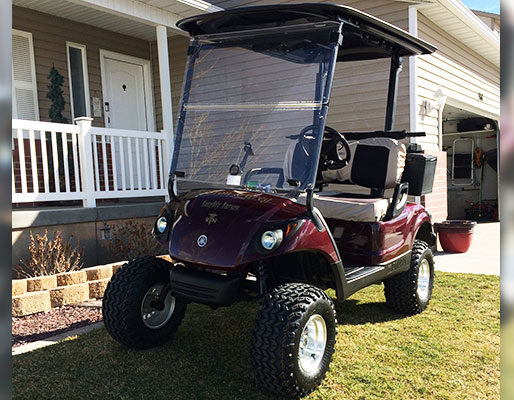 One Good Looking Yamaha
We are glad we could help you upgrade your golf cart. Greg, you did an amazing job!
"Lots of great upgrades on my Yamaha golf cart from Buggies Unlimited. Great selection and service."
- Greg J, UT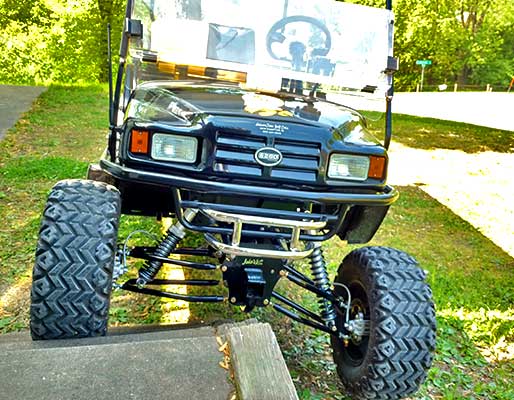 Built For the Tough Stuff!
Trent's ride features a host of Jake's™ off-road products, including a long travel lift kit, tubular bumper, shifter, and hydraulic disc brakes! The upgrades don't stop there though - the interior includes a sport steering wheel and rear seats!
"The parts work and install easily. Ride comfort is drastically improved along with the stopping power"
- Trent M, IA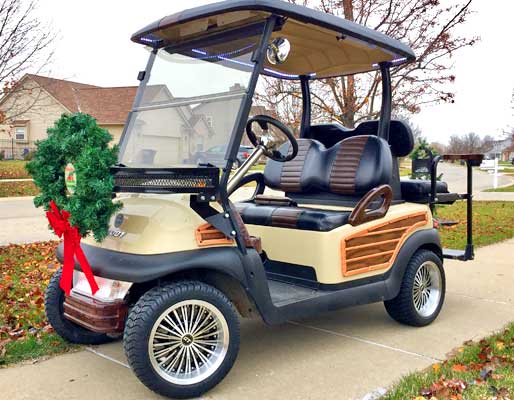 Classic Good Looks
Kathleen's golf cart is styled around a classic 'Woody' theme, is fully decked out with burl wood trim, and sports a set of 12" Swagger wheels to complete the look!
"Love the parts and accessories selection! Upgrading the tires really improved the ride quality!"
- Kathleen S, MI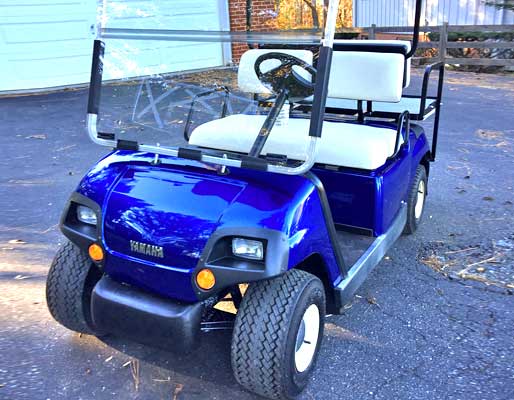 Deep Blue
Bob has added several street-ready parts to his golf cart, including a rear seat, windshield, lights, and new wheels. The bright white seats and wheels really look great against the deep blue paint!
"Nice quality parts and accessories, as advertised. I lower the back seat and use the flat surface a lot to transport things."
- Bob H, VA
Cleared for Takeoff
Dave has decked his cart out with a full U.S. Navy Blue Angels theme, and it looks stunning! We helped Dave with some new electrical components to keep his cart running in top shape.
"The replacement component was identical to the original part. My Blue Angels golf cart is a tribute to all U.S. Navy Aviators, and especially the Blue Angels Flight Demonstration Team."
- Dave J, WI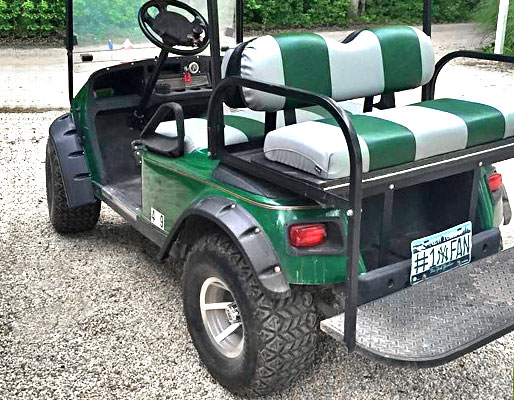 The Great Outdoors
Mike's golf cart can handle tough terrain, thanks to the GTW lift kit, and 10" Evader wheels with chunky Desert Fox tires.
"I use it at a camping resort - Big Timber Lake in New Jersey"
- Mike P, NY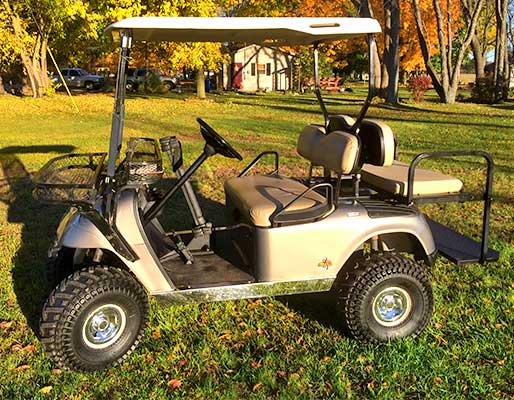 Taking Aim
Craig has added multiple outdoor sports upgrades to his cart, including clay baskets, a gun rack, flip flop rear seat, a windshield, and polished hub caps to complete the rugged outdoor look. Mike also used our engine rebuild service when it was time for an overhaul.
"Everything fits! It's perfect for getting around Sporting Clay courses in all weather conditions in Michigan!"
- Craig M, MI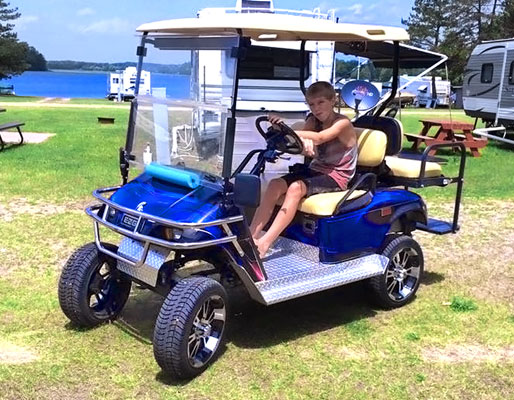 Rolling in Style
Larry's ride is perfect for transporting up to four people around the campground in style! The upgrades list is extensive, and includes matching rear seats, loads of diamond plate accents, a lift kit, and some enormous 14" Yellow Jacket wheels with low profile tires!
"All the parts fit like a glove, just like advertised."
- Larry S, MI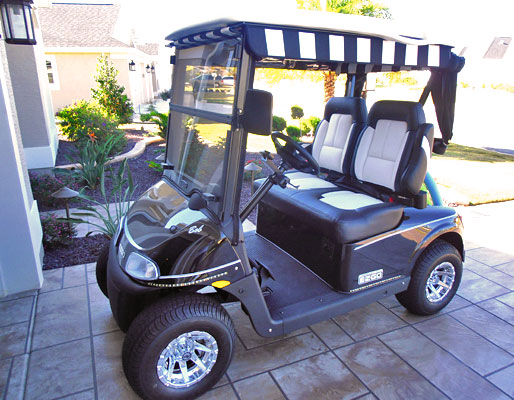 Ready to Roll
This clean E-Z-GO Freedom RXV is owned by Bob J. in Florida, and looks brand new! We carry a wide selection of parts, accessories, and upgrades for this model golf cart.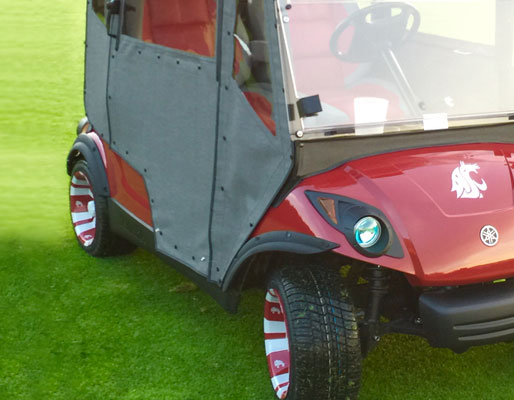 New Wheels Gave it Swagger!
Robert found the perfect wheels for his ride - White & Red Vampires!
"Bought the wheels and then had them custom painted by a local auto body artist Color Wheels. Thank you Jason! Loved the look of the wheels, I looked at all wheels and picked the wheels from buggies unlimited. They gave it swagger! Thank you."
- Robert T, OR
Project Planning
Rusty's in the process of fixing up this 2006 Star golf cart, and is currently in the research & planning stage. We look forward to seeing some project updates in the future!
"Working on fixing it up. Will be adding new parts shortly."
- Rusty P, MO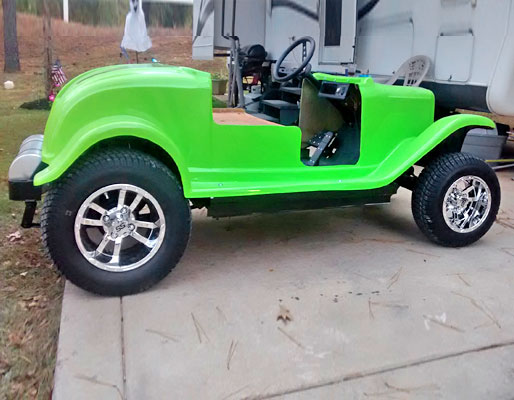 One Mean Green Machine
Thomas picked out a great set of mirror-finish Storm Trooper wheels for the bright green hot-rod golf cart he's building! Shod with street tires, they match the roadster style really well!
"Great looking wheels!"
- Thomas D, TN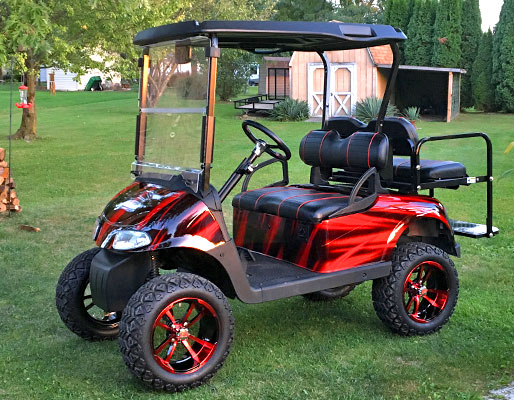 Superb Shine
Tom added a lift kit, and a set of Black & Red Storm Trooper wheels on all-terrain tires which perfectly complement his super-sleek (and incredibly shiny) Black & Red Cart!
"The parts fit right on"
- Tom B, IN
Spooktacular
Kerry's uniquely pink golf cart is styled for a great cause. Here, it's all dressed up for Halloween and looking the part!
"Our cart is best friends with the Woody cart. We love all the upgrades they did and can't wait to start working on ours. Our cart was purchased for breast cancer awareness. And part of the proceeds were donated to breast cancer awareness."
- Kerry S, IN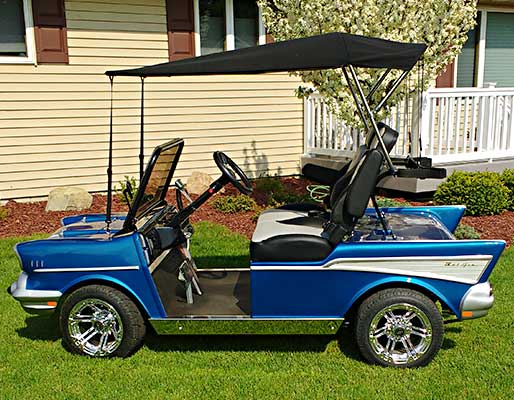 Custom Chrome!
Dave's custom golf cart received a full suspension overhaul, plus new tires, wheels steering wheel and more! Really nice job, Dave!
"The parts have helped refurbish and built 100% street legal"
- Dave W, WI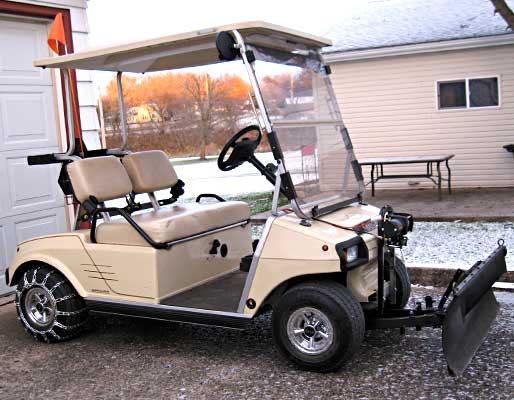 Snow Problem!
Glenn doesn't let snow and ice slow him down! His customized snow plow golf cart features a folding windshield offer some extra protection from the elements
"The windshield fits good"
- Glenn B, IA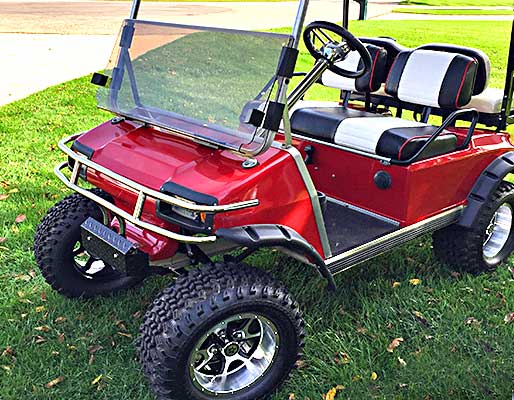 Turn Up The Heat!
Mark's ride looks stunning in high gloss red with matching details. He's added a lift kit, wheels, new seats, and has some power upgrades planned!
"Getting ready to do the motor"
- Mark J, IN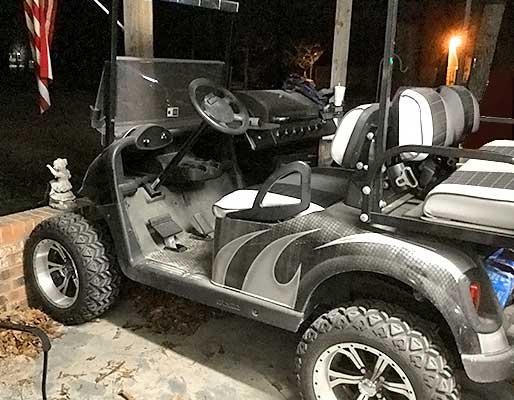 Two Tone
Roger's golf cart is fully decked out in a black, white and gray theme and really looks the part. We helped Roger out with a cover to protect his ride when it's parked outdoors.
"The parts look great"
- Roger B, SC
Night Rider
Mark's super-clean blacked out ride features stunning red underglow lighting, which we're sure looks incredible at night.
"2008 Club Car with a Phantom body kit"
- Mark S, PA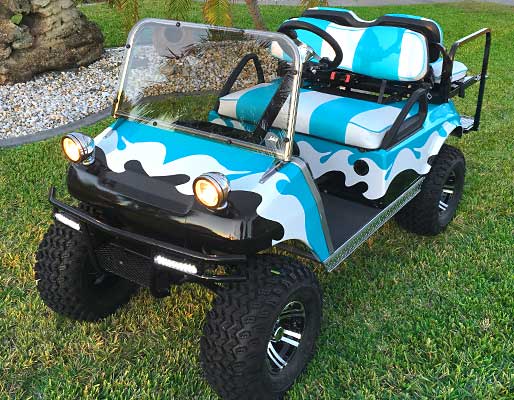 Dune Buggy
Tony has installed a lift kit and a tinted sport windshield on his outstanding dune-buggy themed ride. Great work Tony!
"I found just what I wanted"
- Tony P, FL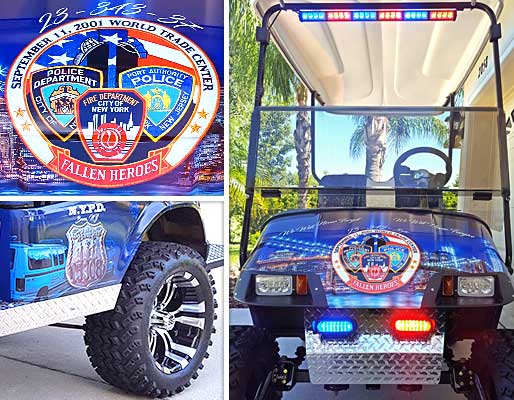 A Tribute to NYPD's Finest
"6 inch Jake's lift w/ 14 inch Vampire wheels. All new carbon fiber dash, steering wheel and diamond plate rubber flooring. Diamond plate shock/ rocker panels along with brand new LED headlight kit as well. 30 amp converter for all the bells & whistles needed for this great cart! Buggies Unlimited NEVER failed me once, GREAT company to work with! Thank you "
- J.R. P, FL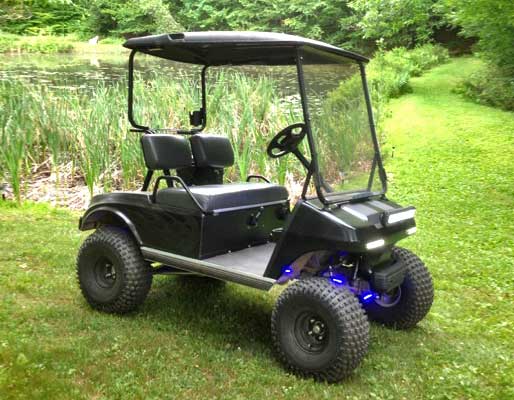 Glow In The Dark
Mark's ride features some trick lighting details! Nice work, Mark.
"1995 Club Car DS, 5" Jakes lift kit, 22" tires, all LED LIGHTING, LED under glow, 12v USB and accessory outlets, ghost flame graphics, Rhinoliner roof, bumpers and rims. "
- Mark D, NJ
Off Road Machine
Jose's E-Z-GO is geared up to hit the trails with ease! A lift kit and upgraded wheels & tires give it extra ground clearance, while a full set of guards protect it from scuffs and scrapes.
"It's Hot Hot Hot!"
- Jose A, PR
Stunning Hot Rod
Charlie's cart looks fast even when it's standing still! It's running a 48-volt system with a 550 Amp controller and 11hp motor, plus massive 2 gauge battery cables. Looking good, Charlie!
"I Built it myself. Everything on the cart is either polished stainless steel or billet aluminum. Buggies Unlimited is a great place to buy all your parts from."
- Charlie B, MO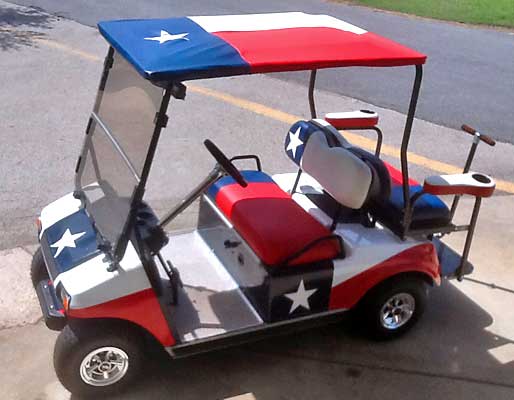 Red, White, and Blue
Billy's ride is as Texas themed as you can get! Really nice details, Billy.
"36 Volt 2001 Club Car DS, Texas Flag theme on metallic paint, custom upholstery on seats and rear arm rests plus Texas Flag Vinyl top cover. "
- Billy C, TX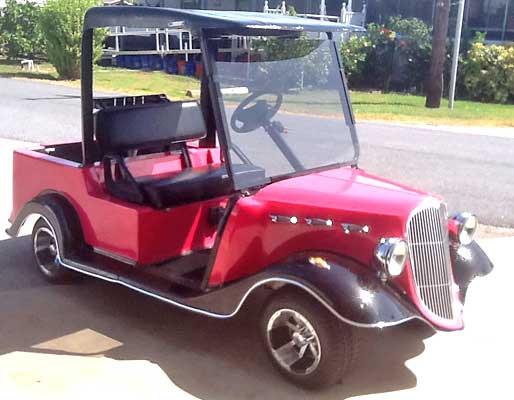 '36 Roadster Truck
This custom truck cart is ready to cruise!
"1936 Roadster Truck on a 2005 48 volt Club Car DS chassis. Chassis was extended 8 inches."
- Billy C, TX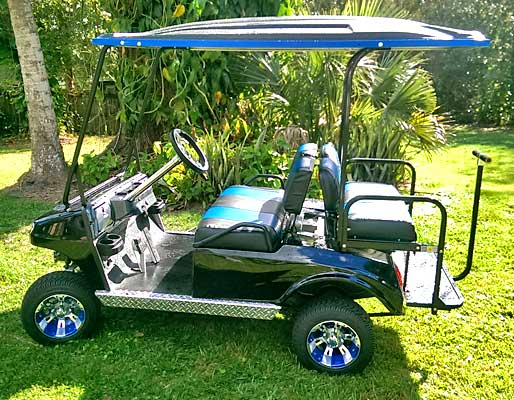 Super Clean Lines
Skip's cart is decked out in a stunning black, blue and silver theme.
"I've added tires & wheels, a lift kit, and a rear seat"
- Skip E, FL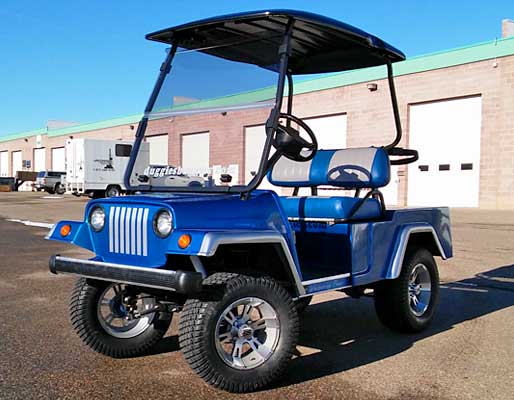 Two-Tone Jeep
Doug's custom Jeep-bodied cart features a whole host of upgrades, and looks fantastic in the two-tone paint scheme.
"Lots of accessories and parts went into this build!"
- Doug B, AB, CANADA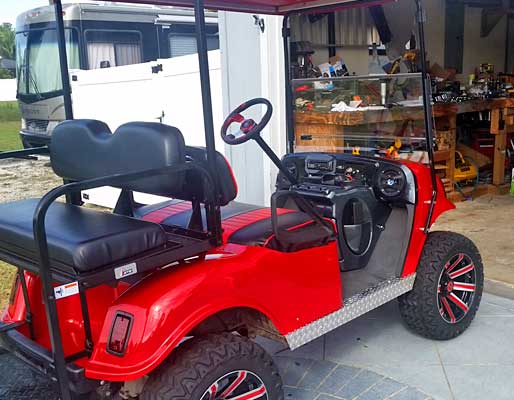 The Perfect Package
Don built this cart for a friend, and we really like the color matched theme throughout!
"I installed a Jake's lift kit. Rims, tires, dashboard, stereo, backseat kit, steering wheel, and heavy duty springs. I built this for a friend that bought all his parts from Buggies Unlimited. You guys did great making ordering easy and answering all questions. Thanks, now I'm going to start building my own cart."
- Don L, FL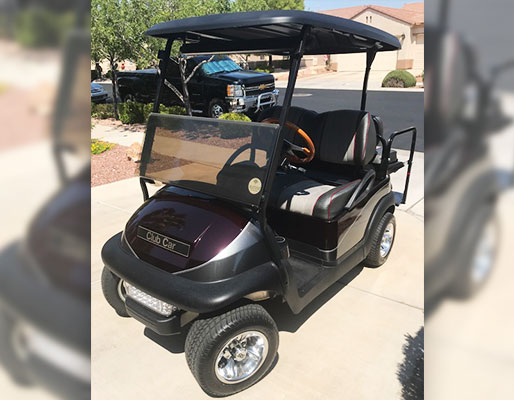 Clean Ride
This golf cart's new chrome wheels and other upgrades have it looking fresh and clean! Great job, Ric!
"Added wheels, tires and Grant steering wheel. Dealing with Buggies is a pleasure."
- Ric G, NV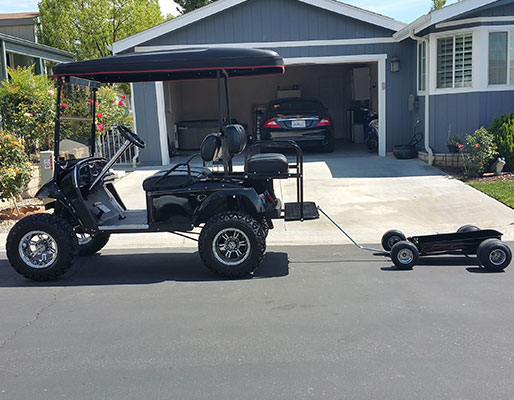 Black Beast
Lee has this cart looking great with chrome wheels, red details and awesome drag wagon!
"Custom built Limo EzGo Pinot Noir Golf cart"
- Lee D, CA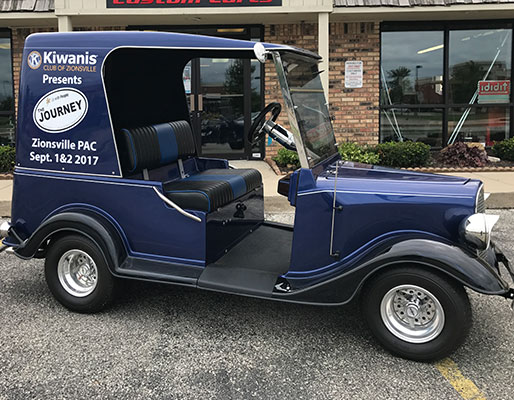 Blue Classic
A great vintage inspired cart used to promote a great cause! The blue & black seats and chrome wheels look great with this overall style!
"As part of the Kiwanis Club we use our golf cart for parades and events around our town."
- Pau N, IN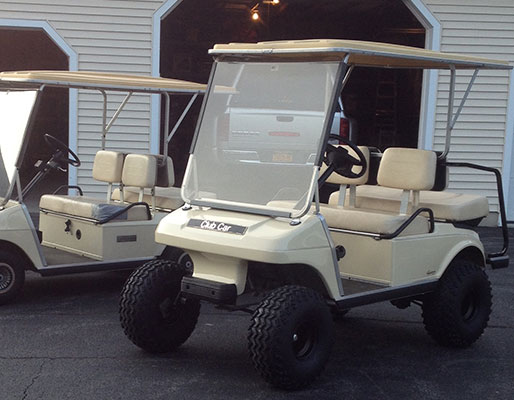 Club Car with a Twist
Looking good, Jeff!
"1996 Electric Club Car w/Jakes 6" spindle lift, 22" tires on 8" steel rims next to a stock 1991 Electric Club Car."
- Jeff L, NY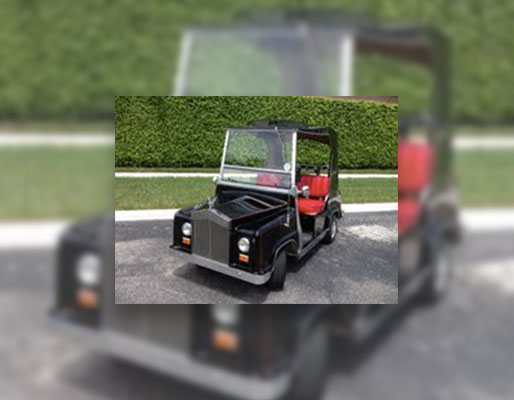 Vintage Style Black & Red Ride
Red hot interior and awesome details!
"Rebuilt the whole cart. Majority of things are from you guys. Been using you for years, always a great experience. Looking forward to seeing my cart on your site."
- Jared B, FL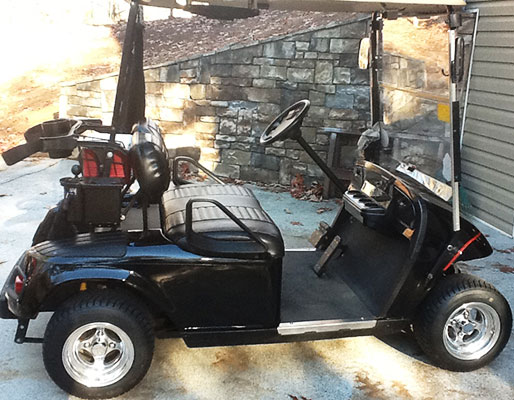 Black, Red, and Chrome! Oh My!
Jim has this cart looking sleek with a black and red theme, shiny chrome wheels and many other awesome upgrades! Thank you so much for your loyal business!
"It's a 2001 EZ GO TXT originally standard EZ GO green. Items from Buggies include tires, wheels, dash cover and various mechanical / maint items. Just ordered a chameleon enclosure. I work on carts for fellow golfers at my club and always try to use Buggies for parts and refer people to you for items. Very seldom a problem but any are quickly resolved."
- Jim L, GA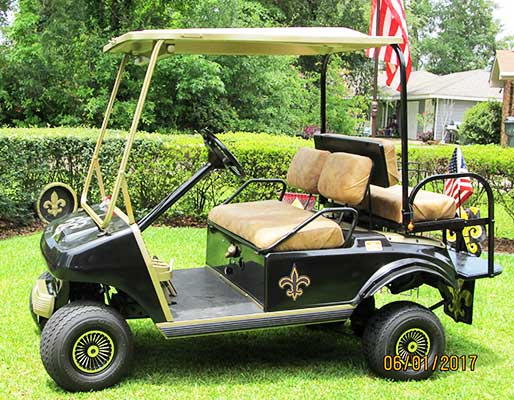 Black & Gold. Go Saints!
This cart almost saw the last of it's days, but Ira was there to save the day! He gave this cart a second chance and it's looking better than ever!
"With the help of Buggies Unlimited and some TLC, a 17 yr old Club Car that was on its way to the scrap pile from being abused for hunting purposes was given new life with suspension and front end replacement parts to include rims, caps, and tires. Betsy has a new life thanks to Buggies Unlimited"
- Ira B, MS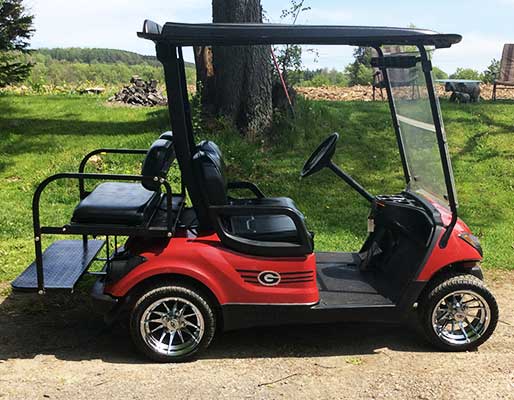 Ready to Cheer on the Dawgs!
Rodney has this cart Georgia Bulldog ready!
"New tires and decals and paint. I ordered a horn and starter. Haven't installed yet, but soon."
- Rodney P, NY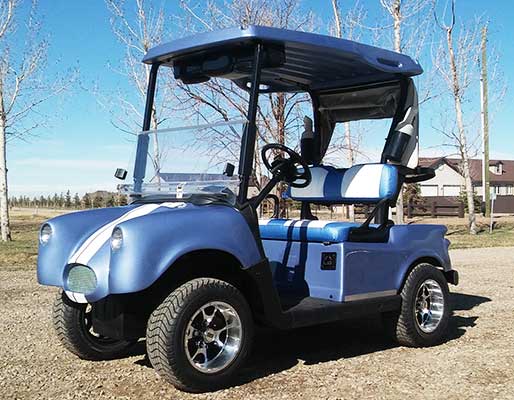 Blue Beauty
Blue and white seats to match the beautiful blue and white paint! Doug also added some shiny new wheels to top off the look! Great job!
"Many time buyer! Lots of parts and accessories from BU!"
- Doug W, AB, CANADA
One Tough Ride
Justin did great with this build! The all black with tan seats looks amazing! This cart was given a lot of TLC!
"My first build. Rather fun and wish it wasn't over. I can't think of what I didn't put on this. All but the rear lift spring upgrade did not line up with the Long Travel kit. Otherwise, Good stuff."
- Justin H, TX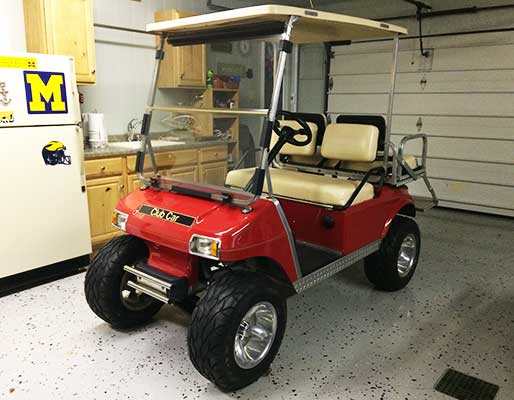 Candy Apple Red
All of these great upgrades have been combined to make one good looking ride! Awesome job, Gary!
"Installed an arm lift kit, heavy duty springs and custom wheels and tires. Rear flip seat kit. Also installed diamond plate trim and front bumper."
- Gary W, MI
Lean, Mean, Green Machine!
Edward's cart is on point! So glad we could help you take your ride to the next level!
"This Green Machine is a G2g9 with a 7in double a arm and 23in tires, a burile wood dash cover and candy apple green paint job. Thanks to the great help from Buggies Unlimited"
- Edward M, CT
Upgraded 1998 Yamaha
This Yamaha golf cart is looking great with all the new upgrades! Thanks for the great feedback Robert. We're happy when you're happy!
"Hi, I have a 1998 Yamaha golf cart. We have added light kit, hubcaps, rear seat, new front clutch and rear clutch, AM/FM radio with front and rear speakers, all parts from BUGGIES UNLIMITED!!! PARTS ARE GOOD QUALITY!! AND LOOK AND WORK GREAT!! THANK'S FOR THE QUALITY PARTS AND SERVICE!! THE PIERCES!!"
- Robert P, NY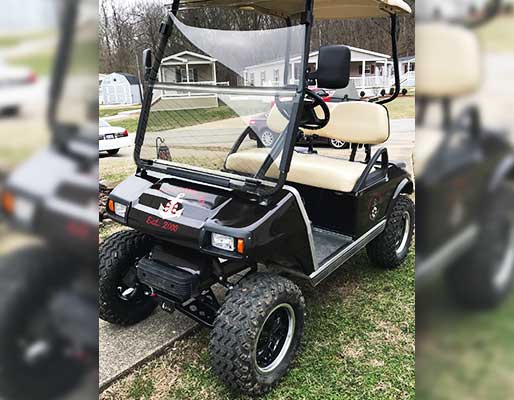 Allen's One of a Kind
Great job, Allen! You definitely turned this into a unique ride! It looks amazing and we are very happy that we could help you out on this project!
"Added 6 inch lift and tire combo, tinted windshield with all new plastic. Made auction bought cart in to a one of a kind. Thanks Buggies Unlimited for being so helpful."
- Allen S, IN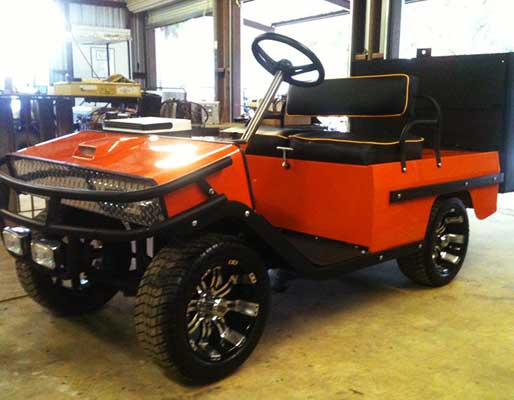 Great Looking Ride!
Rudy, your attention to detail is amazing! Great work!
"1972 Cushman Industrial Truck. Fully disassembled and each part cleaned, repaired, customized, painted or replaced yes even all the hardware. EZGO TXT Jake's Plain Wrap Around Brush Gard Molded into the Channel frame down the sides of the cart. Installed a Steel cargo bed with a dump kit, cut front plastic bessel off, inlaid polished diamond plate in the grille, polished diamond plate glove compartment door, redesigned the seats bigger with more cushion and then threw black vinyl with orange color match cord. 2"inch leveling lift. 12" tempest rims with 205 tires. Entire new running system inside it with brand new trojan batteries, Hazard Pearl Orange Paint with color matched charger, custom wheel five to four lug adapters, with disk brake custom VW implant design. Scaled to size Hood Scoop, flame thrower kit out the trademark Cushman port hole in very rear. Even though it's a electric cart. Hey, it reminded me of batman when I seen that hole back there. So give me a brake."
- Rudy R, LA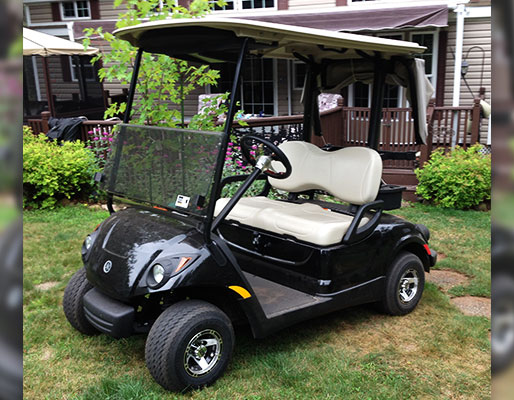 Black & Chrome Ride
This cart is looking great, Rick!
"Wheels, steering wheel, windshield, stereo"
- Rick T, MN
Show Me the Trophy!
Chad, this is awesome! You have done an amazing job and totally deserve that trophy!
"I built this cart out of an old Melex, stretched and lifted it, then put a Tomberlin front suspension on it. It has a Mercedes SL body, 1960 Pontiac Taillights, Nissan Leaf Lithium battery pack (58v), Alltrax 500 amp controller, heavy duty F/R switch, LED lights, full trunk, custom upholstery, removeable vinyl covered roof, custom led digital guages, killer stereo with 10" JBL subwoofer, PPI amp, and Polk Audio 4x6's, underbody lights, battery compartment lights, trunk lights, dixie air horn (switchable to regular beep horn when needed), retractable drink holders, SeaDek faux teak floors. Entering my first custom golf cart show this weekend and hope to bring home a trophy so I ordered a set of 23" Street Fox tires with 14" Cragar Street Pro's to dress it up from buggiesunlimited.com! Great deal and easy ordering online."
- Chad H, FL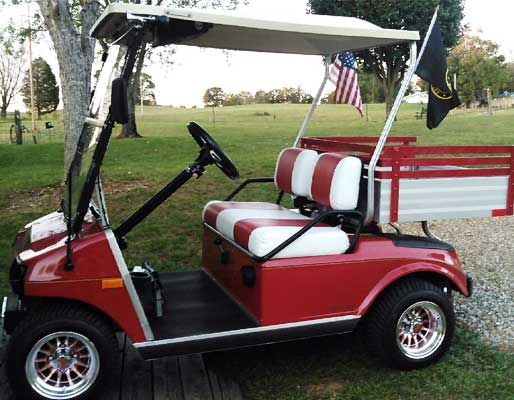 Red & White Ride
Love the red and white theme! All these upgrades have come together to make one great looking cart! Great job, Roger! We're glad we could resolve that issue for you as well!
"Updated with Medusa wheels, Mamba low profile tires, custom covered seat, am/fm radio, side mirrors, rear view mirror, engine tachometer, dual exhaust, dump bed, street legal. Have had good experience with purchases, except received wheels and tires, 2 were flat. Upon investigation beads on both tires had been broken when tires were mounted. Returned. Received others ok."
- Roger F, TN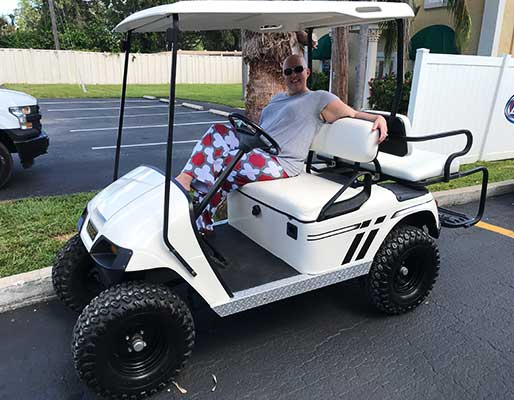 Super Clean Ride
The white with black details and all black wheels looks great! You have an awesome looking cart, Johanna! Thanks for sending in your photo!
"1997 TXT 36V 36mph on GPS"
- Johanna F, FL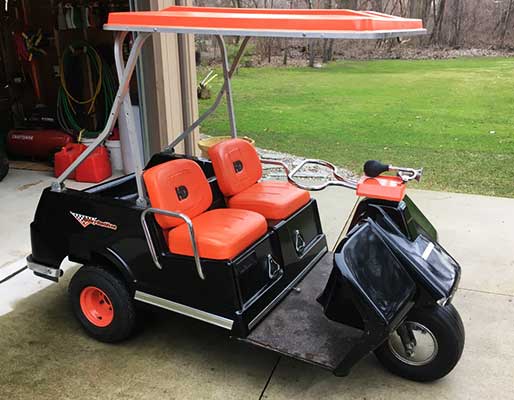 1973 Harley Cart
Tom, you did a great job on this one!!
"1973 Harley 3 wheeler. It has been a labor of love, seems the older they get the more attention they need just to keep going. I am a big fan of anything Harley, I ride an Ultra Classic when I want to play with the big kid toys. I primarily use the cart to carry my cooler to the beach which is a 1/2 mile from my house, it is a must have."
- Tom M, MI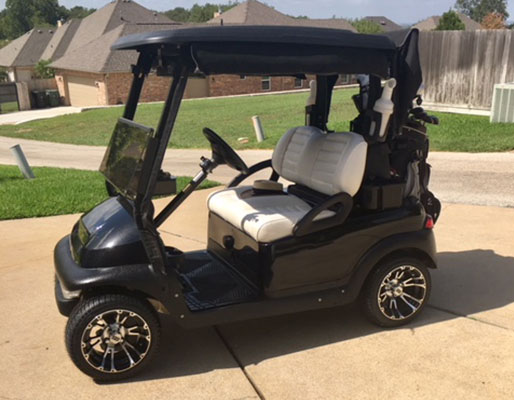 2010 Club Car Precedent
Tony, we love what you did with this cart! The tire & wheel combo looks great!
"2010 Club Car Precedent, high speed motor, black pearl paint, custom 12 inch wheels and tires from Buggies Unlimited. Great place to purchase all your golf cart parts."
- Tony C, TX
Christopher's Extended Ride
This cart looks great, Christopher! Thanks you for this submission!
"This cart was made by Second Chance Restoration in Erie Pennsylvania . The cart has everything lift, tire, wheel and led lights."
- Christopher T, PA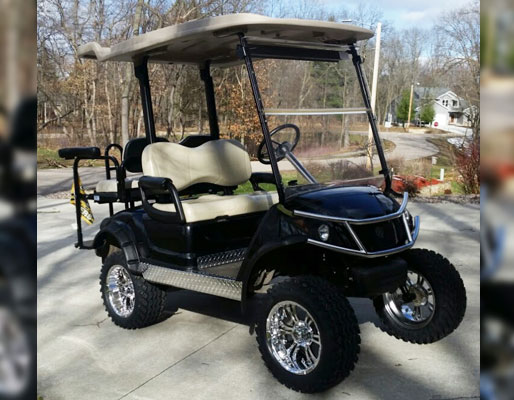 Talk of the Campground
This cart went from ordinary to the talk of the whole campground! This is looking great, Tom! Thank you for submitting you cart!
"Very satisfied with all Parts/Accessories, customer service/technical department is excellent and easy to work with. Been told its the looking cart in campground."
- Tom K, WI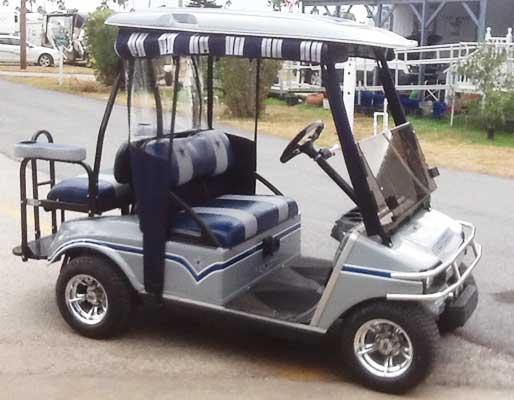 Go Cowboys!
This Club Car is ready for some football tailgating at a Cowboys game!! This looks great, Billy!
"Complete refurbishing of a 2001 Club Car DS with the Dallas Cowboy theme."
- Billy C, TX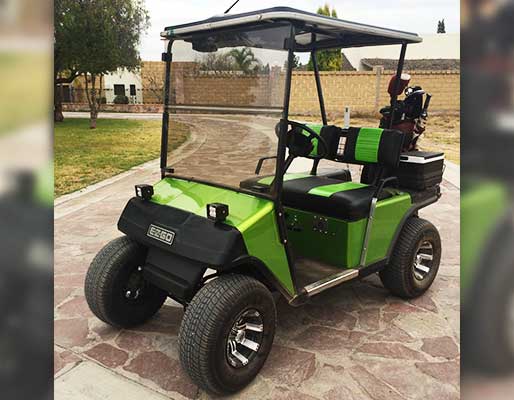 E-Z On the Eyes
So much time and hard work went into this golf cart and it paid off! We had a great time working with you to get this cart exactly how you wanted it!
"I took a 1992 EZGO Marathon and stripped to the frame. All new components were purchased from Buggies Unlimited. I lifted the cart 4 inches put bigger tires on it. I converted the cart to 48 volts with a larger 500 amp controller and a stronger AMD motor. Many other items that would be too long to write. Buggies Unlimited staff were very helpful in the ordering process. Todd was very helpful in troubleshooting issues. It was a lot of fun and a fantastic learning experience."
- Rudi D, SLP, Mexico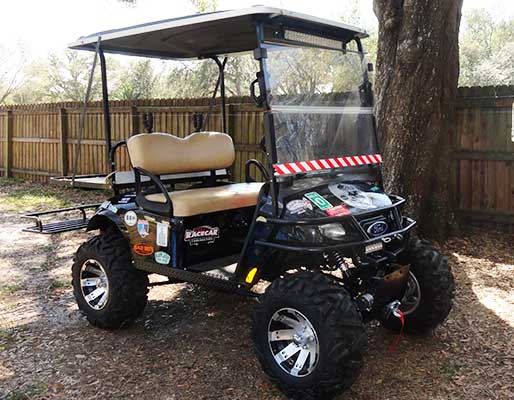 One Sweet Ride!
This cart from Florida is looking great with all of the upgrades that Jeffrey made! Awesome job and thanks for showing us your cart!
"4 link coil-over, Clutch Kit , 25 inch Tires, 14 inch Wheels, E-Z-GO TXT"
- Jeffrey A, FL