E-Z-GO RXV Linen Sunbrella Door Max Enclosure (Fits 2008-Up)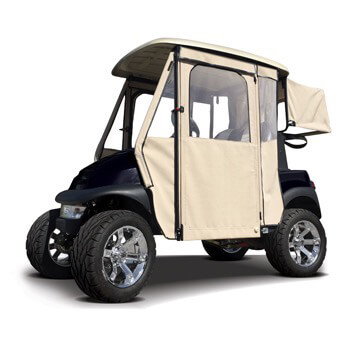 Product Details
Special Order item: May take up to 30 days for delivery.
The all NEW Door Max enclosure with an automotive style removable hinged door.
Product Features:
Fits the E-Z-GO RXV 2008-Up with a new style top (Top should have 5-Ribs on the underside and a dome top, not flat)
All steel framework for rigid durability
The Linen enclosure curtains are made from a high end Sunbrella Fabric
Windows in both of the removable doors and at the rear sweater basket
Works on carts with or without windshields
Easy to install, uses existing mounting points on underside of top and has sleeves that wrap around the front roof supports
Shown with optional club protector, sold separately (Click here to shop)
Customer Reviews
Tough installation
I just finished installing this enclosure on my ezgo cart. The instructions are very difficult to follow but I made it thru. You have to drill holes in the sides on the bottom, after doing this, the set of bolts were too short and I had to go to hardware store to get longer ones. Their is no way to put my windshield on except to cut holes in fiber to run bolts thru. There is a door stop that works ok, but it is on inside of cover instead of outside. I thought this was suppose to be custom made for this cart, but took me 5 hours to get finished. Now that it is on, looks nice and will do what I wanted. Please make a video of installing this enclosure, that would help.
Response from Buggies Unlimited
We apologize for the frustration. This is a very new product and we are going thru some growing pains with the instructions. We are currently working to improve the quality of these documents.
November 13, 2017
Buggies Unlimited