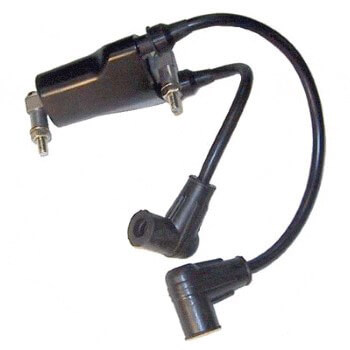 E-Z-GO 4-cycle Ignition Coil (Fits 1991-2002)
Product Details
This Buggies Unlimited OEM replacement part has been developed to meet or even exceed the manufacturer's original equipment specifications.
Specifications:
Ignition coil for 4-cycle golf carts
Fits E-Z-GO 1991 -2002 Pre-MCI engine
Replaces OEM Number(s): 26652-G01
Questions & Answers
Browse 2 questions
Browse 2 questions and 4 answers
One wire pulled out of the housing, I shoved it back in ,but it runs weak?
BEST ANSWER:
Hello Mr. Teran! Pull the plug out of the head of the motor, put the spark plug cap back on it, but do not screw the plug back into the head. Grab an insulated screw driver and hold it real close to the end of the spark plug and hit the gas pedal. It should produce a blue or white, very consistent spark. If the spark is red or yellow, you should replace the coil. Repeat for both spark plugs. Typically one will spark good and the other will be weak so the car runs weak. If that's the case, replace the coil.
cart is hard to start in morning if I put a charger on it it starts right up new carb,plugs battery is it the coil?
BEST ANSWER:
It could be a few different things, lets focus on the electrical side of things first. What it sounds like to me, is your voltage regulator is preventing the starter from recharging the battery. To check this, charge your battery up completely and install in back into the cart. Jack up the rear end of the cart so it cant run away on you and hook your volt meter up to the battery, you should read 12v. Then hit the pedal and see how the voltage reacts when the car starts to run. it should rise to about 15v, indicating that the battery is recharging. If you only see 12v and it starts to drop off it indicates that the starter is not getting any of the charge to the battery. This more than likely means that the voltage regulator is bad. Lets bypass it to make sure. Find the DF terminal on the starter and hook a jumper cable to it and run the other end of the jumper to the NEG on the battery. (don't disconnect anything, just add the negative jumper) Then check the battery voltage again while the cart is running. If its 18-20v or climbing in that direction, you need to replace the voltage regulator.
Customer Reviews
Easy install - worked great!
June 21, 2018
Purchased
3 weeks ago
Service was great!
I would order parts from them again!
May 31, 2018
Purchased
1 month ago
The product fit excactly as it was supposed to. I would defenitly recommand this product to anybody.
May 22, 2018
Purchased
1 month ago