Yamaha Ignitor (Models G9)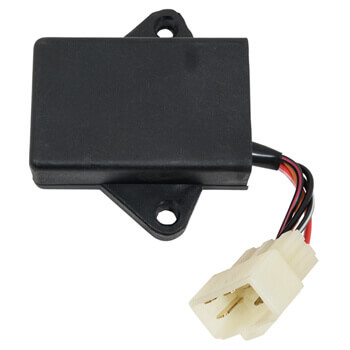 Product Details
This Buggies Unlimited OEM replacement part has been developed to meet or even exceed the manufacturer's original equipment specifications.
Specifications:
New style ignitor connects by plugging its pigtail into existing pigtail. Includes snap in plug
Fits Yamaha G9
Replaces OEM Number(s): 99999-02368
Questions & Answers
Browse 2 questions
Browse 2 questions and 2 answers
the igniter I have has a Mitsubishi symbol on the front, a number JG5-00 and 1408 below it, 1572 on the back and a 6 pin connector. It is a used replacement engine, starts, backfires, starts, backfires then just turnover for a while then fires and backfires again. Have changed the flywheel sensor and the carburetor and the intake manifold. What do you think it is ?
BEST ANSWER:
it sounds like something in the ignition circuit for sure. Just to be sure, you want to verify things like the battery voltage under a load and the ability of the starter generator to recharge the battery. If either of these things are wear, it will affect the condition of the spark. Typically if the spark is weak, its a sign of the ignition coil going bad. If you get a good hot spark but it is inconsistent or you only get one quick spark, it points more toward an igniter. There are several other things to take into account though. Like the condition of the grounds on the battery and the starter and the fuel supply components.
I have a 93 Yamaha
Vin is jg5-102318
Ignitor number is 1572
Do you have one that will fit?
BEST ANSWER:
Lisa 5152 is the correct igniter for your g9