E-Z-GO Fuel Pump (Fits 1982-1988)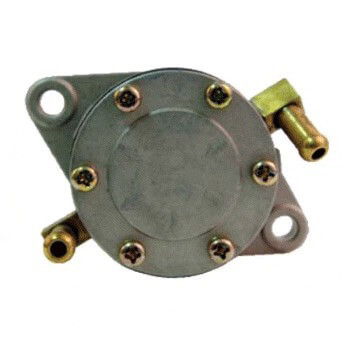 Product Details
This Buggies Unlimited OEM replacement part has been developed to meet or even exceed the manufacturer's original equipment specifications.
Specifications:
Fuel pump engine mount
Fits E-Z-GO gas (2 cycle) 1982-88
Replaces OEM Number(s): 14151-G1
Questions & Answers
Browse 2 questions
Browse 2 questions and 12 answers
my golf car does not seem to be getting gas, could it be the fuel pump?
BEST ANSWER:
It could be several things. Check and make sure that the line and pickup tube in the tank are clear by blowing through them. Then check for any leaks at any fittings or connections to make sure that it isn't sucking air. I'd replace the filter with a see through variety so that you can see if fuel is actually moving. Then I'd disconnect the fuel line at the carb to see if the fuel is getting to the carburator. If it is, I would suspect that your needle valve is stuck closed, or that you have some other obstruction in it. Another problem with these 2 cycle Robin engines are worn crankshaft seals, or cylinders. The crankcase has to be airtight (seals) and compression high enought (above 95lbs) for the fuel pump to pulse and pump fuel. Hopeully it is something simple, not an engine requiring seal replacement or a rebuild. Good luck!
Mike F

on Jul 10, 2018

Purchased on Apr 25, 2017
What cause my ezgo golf cart to sputter , seems like its not getting the Right amount of fuel , did change the fuel filter ?
BEST ANSWER:
A lot of good answers already on this one, please take a look at them all, but here's my 2 cents. When I am having what I believe to be a fuel supply problem, three things to run down come to mind. Fuel supply (duh) fire or spark and compression. Any of these things can make it look like the fuel supply is lacking. Your compression should be about 150 PSI on a 4 cycle golf cart and about 120 on a 2 cycle. Check the condition of the spark, make sure its blue or white and consistent. Then remove the fuel line that runs from fuel pump to the carb at the carb and see if the fuel pump pulses fuel as the engine turns over.
Customer Reviews
85 Cart
Hard to find parts for a 1985 cart but these guys have it all!!
July 16, 2018
Purchased
2 weeks ago