New & Improved Navitas

Controller Kits

We are happy to announce the relaunch of the popular Navitas controller lineup. These updated controllers feature new software for improved reliability and increased performance. Available in 440 or 600 amps of power, we're sure to have the model you need to get the most out of your golf cart motor.

Learn More
Personalize your driving experience in real-time—adjust top speed, acceleration and regenerative braking while driving!
Whats new & Improved
The 420A controllers have been replaced by a 440A version
Newest generation software improves reliability in the field through reduced error codes/faults
Both controllers have up to a 15% increased top-end speed in "Cruise Mode" on flat terrain
Navitas Controller Features
Compact design & compatible with stock motors
Multi-application compatibility Club Car, E-Z-GO, and Yamaha
Compatible with 36v and 48v carts
Universal mounting system designed to fit original OEM mounting locations
Integrated on board diagnostics & motor protection
Built in thermal protection
Regenerative braking in forward & reverse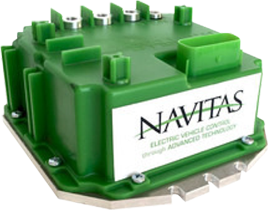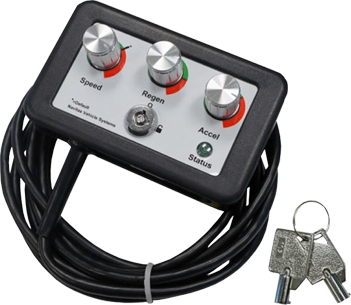 On-the-fly (OTF) Programmer
Increase range up to 15%
Dash mount "Plug & Play" installation
No need for costly complicated programming
Personalize your driving experience "On-the-Fly"
Adjust top speed for safety
Adjust acceleration and torque for increased pulling and hill climbing ability
Adjust regenerative braking in forward. Fixed reverse for safety when driving or backing down steep grades
Special "Lock Out Feature" that allows you to lock your settings - Great safety feature for families and commercial applications
Vehicle specific harness for easy "Plug & Play" installation!