LESTER SUMMIT® SERIES IICHARGER & CORD SET
Summit® Series II battery chargers feature automatic multi-voltage detection and adjustment, plus a new Bluetooth smartphone app for monitoring charge cycle status! Intelligent natural convection cooling (no fan). CEC and DOE compliant. Available for most popular models.
Learn More
Lester Summit Series II Battery Charger & Cord - 650W
Next-generation 48 and 36 volt battery charger family featuring Bluetooth wireless communication and other industry-leading features, including CAN bus communication.
Measures: 11.297L x 7.172W x 3.641H
48V and 36V battery packs can be charged with a single charger
Wet/flooded, AGM, gel, and lithium-ion compatible
UL recognized/listed, cUL/CSA, CE/EN, RCM, FCC, ICES, CEC, DOE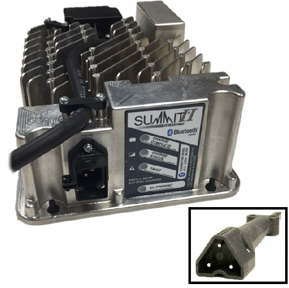 Set Shown: E-Z-GO RXV & TXT 48V
Set Shown: E-Z-GO TXT 36V
Lester Summit Series II Battery Charger & Cord - 1050W
Higher-power version of Summit Series II with Bluetooth wireless communication and automatic DC output voltage detection and adjustment, which enables 48, 36, and 24 volt battery packs to be charged with a single charger.
Measures: 10.969L x 9.250W x 4.000H
48V, 36V and 24V battery packs can be charged with a single charger
Wet/flooded, AGM, gel, and lithium-ion compatible
UL recognized/listed, cUL/CSA, CE/EN, RCM, FCC, ICES, CEC, DOE
Tech Tips
These chargers work with ERIC (2015-Up) equipped Precedents & Carryall 300, as well as Utility/Transport vehicles with on board chargers. If the Club Car is an older vehicle with OBC it will require the on-board computer bypass kit (OBC).
ChargerConnect™ App for Summit Series II Chargers
The ChargerConnect app is available for Apple® and Android™ phones and tablets, enabling Bluetooth® wireless communication with Summit Series II battery chargers. The app provides unprecedented access to charger and battery data and includes the following features.
View charge cycle status data
Manually stop/start a charge cycle
Manually initiate an equalize/balance charge
Select the active battery profile
Upload new battery profiles to the charger
Download detailed charge cycle history records from the charger
Cloud connectivity via the app
Golf Cart Battery Tips
Replacing golf cart batteries can become rather expensive and time consuming. It also can be very frustrating to have to charge them after only a short run time. There are a few ways to combat these types of issues.
Do not overcharge your batteries, this will lead to premature damage.

Automatic chargers are the most efficient and safest way to charge your batteries. It will turn itself off when the battery pack is fully charged.
There are some older model chargers that do not have this type of feature. If you have a manual charger it is best to set yourself an alarm or reminder to shut the charger off when the battery pack is charged.

It is best to get into the habit of charging your cart every time you use it
Do not let the batteries die all the way. Lead-acid batteries will not recover 100% if they are discharged completely.
Always allow enough time to fully charge your batteries before your next driving session.
Remember to switch off all lights, radios and other accessories, and always remember to remove the key when exiting the cart. This will prevent from fully discharging your batteries.
Your driving habits will also have an effect on your battery life.

To get the most run time from your batteries avoid steep hills and extra cargo, and your passengers should not exceed the specified load capacity.
Long periods of "full throttle" will also cause a rapid discharge of the batteries.
Proper Battery Maintenance
Regular battery maintenance each month will help prolong your battery life span.
Remove corrosion from the terminals and use distilled water and always keep them filled to the water level markings. Use of a battery watering system will streamline this process.
If properly maintained your battery pack should last a minimum of five years.
Another benefit of a well maintained battery pack is that you will be able to travel longer distances between charges.
Shop DELUXE BATTERY MAINTENANCE KITS For: