What Year Is My Club Car Golf Cart?
Since 1981 Club Car Golf Carts have positioned their serial numbers just under the glove box on the passengers side of the vehicle. The serial number of each vehicle is printed on a bar code decal. The two letters at the beginning of the serial number "A" indicate the vehicle model. The following four digits "B" indicate the model year and production week during which the vehicle was built. The six digits "C" following the hyphen represent the unique sequential number assigned to each vehicle built within a given model year. (See chart below to find your model.)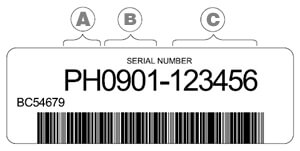 This Example Serial Number is for a (PH)Precedent I2 Excel (0901)Year-2009 Made the 1st Week (123456)Unique Number For This Particular Cart.
On Club Car Golf Carts prior to 1981, you can find the serial number by raising the seat and locating the aluminium, I-beam frame section closest to the batteries on the driver's side of the car. If the serial number plate has been removed, you can confirm it is a 1975-1980 model if it has two brake pedals and one accelerator pedal.