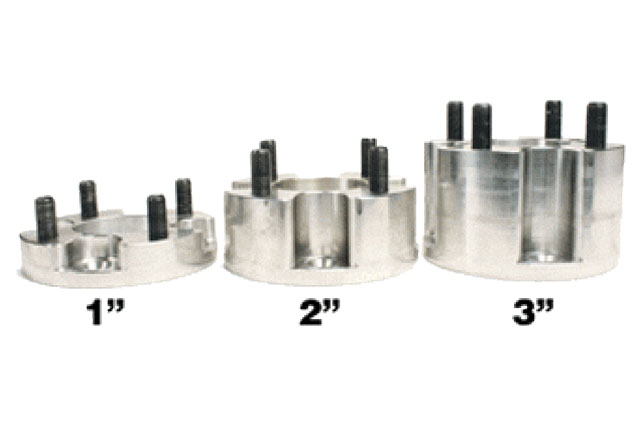 Key Facts:
- Increase wheelbase for added stability of a golf cart
- Available in standard lug only
Common issues: Addresses issues such as tire "rubbing" on fender
Tools needed for Maintenance: Socket wrench, thin wall socket, (3/4 or 19mm) floor jack.
Wheel Spacers
Wheel spacers are used to achieve a wider wheel base on your golf car. Why would you want a wider wheel base? Have you ever taken a golf car around the corner at anything other than a crawl? It's scary; golf cars are top heavy and can flip over easily. As you increase the width of your wheel base the stability of the golf car will also improve. Wheel spacers are an alternative or can be used in addition to new offset wheels.
We have three sizes of wheel spacers: 1in, 2 in, and 3in. These can be used on any golf cart with a "4 on 4" (or 4 x 100mm) bolt pattern. However, the lugs on these spacers are a standard thread (1/2", 20) so you will also need new lug nuts to reattach your wheels if you have a Yamaha or any other cart with a metric bolt pattern. These spacers slide over the hub and existing lugs. They attach using the stock lug nuts. You will need an additional set of lug nuts to attach the wheels to the golf car and remember they must be standard. (1/2", 20)
Lug Spacers
This style spacer spins on to the individual lugs and it extends the lug 1- 3/8th in. You can reuse your existing lug nuts to remount the wheels. Available in standard (1/2", 20) only.