Use this guide to quickly decode the markings on your golf cart tires.
Tires and wheels are the perfect way to upgrade the look, and function of your golf cart. Here, we're covering some of the common markings on a tire's sidewall and what they mean.
Golf Cart Directional Tread Patterns and Tire Sizing
Some tires have a directional tread pattern, this is often indicated by an arrow on the sidewall. This arrow needs to be pointed to the front of the golf cart on all four tires. If you look at the sidewall, you'll also the size listed which can either be in standard or automotive format.
Standard Format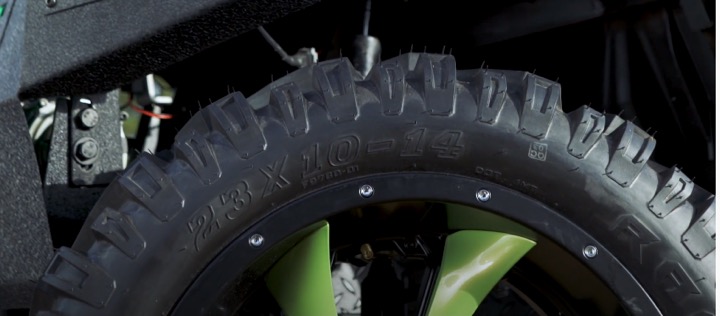 This picture is of the tire size in standard format. The first set of numbers represents the tire height, the second set is the tire width, and then the last set is the rim size.
Automotive Format
Some tire sizes will be in an automotive format. In this case you can see we have a 205/ 30-12 tire. The "205" stands for the width of the tire tread in millimeters. The "30" is the aspect ratio of the side wall or the sidewalls height and the "12" is the rim size post.
Tire Size and Lift Kits
Street style and low-profile tires will mount directly to stock golf carts. In some cases, like the Club Car DS and Precedent you'll need a low-pro block lift kit depending on how tall the tire is. Most all-terrain and off-road tires will require a lift kit and different sized tires require different size lift kits. For more information on lift kit and tire compatibility, check out this helpful guide:
https://www.buggiesunlimited.com/golf-cart-lift-kits-and-combos.asp
Tire Ply
You'll also see a ply rating on the tire wall, this ply rating comes in a 2, 4, and 6 ply. A 2 ply will give you a softer, more absorbent ride but runs a high risk of punctures while off-roading. A6 ply tire is thicker and has the highest load rating and puncture resistance, but has a less forgiving ride than the 2 or 4 ply options. A 4 ply tire is in the middle of the spectrum and is the most popular in the golf cart industry, offering a good balance of strength and rideability.
Mounting PSI
Lastly, keep in mind that the max PSI stamped on the sidewall is only for mounting the wheel and tire, this is not your operating PSI.