Delivery Times & Charges
This map shows the average number of business days (Monday through Friday) it takes for a Buggies Unlimited order to arrive at your destination with our Standard Delivery Service once your item is shipped. Most in-stock items are shipped within 48 hours after your order is placed.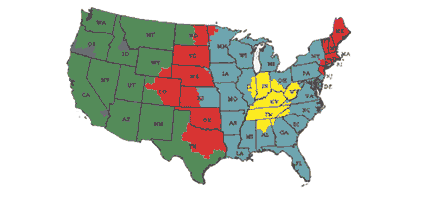 US Delivery Charges
For overnight shipments, please call us for a quote at 1-888-444-9994
Order Amount
Standard Delivery

Continental USA Only

Up to $49.99
$8.99
$50.00 - $99.99
$10.99
$100.00 - $149.99
$12.99
$150.00 - $399.99
$15.99
$400.00 - Up

FREE!
Express Delivery & Alaska, Hawaii, Puerto Rico
Order Amount
2-3 day Delivery

or Alaska, Hawaii, Puerto Rico

Up to $100.00
$45.00
$100.01 - $200.00
$80.00
$201.00 - $300.00
$120.00
$300.01 and up
35%
Canada Delivery
Order Amount
Delivery Charge

Includes Duties & Taxes

Up to $100.00
$45.00
$100.01-$200.00
$80.00
$200.01-$300.00
$120.00
$300.01 and up
35%
International Customers
We can arrange worldwide shipping. For a quote, please email us at SalesHelp@buggiesunlimited.com and include your shipping address plus a list of the products you wish to purchase.
Shipping Information
Please open and inspect your package immediately upon delivery. If you encounter any issues or have questions about your shipment, call us toll-free at 1-888-444-9994 as soon as possible.
Some larger golf cart accessories or parts (e.g. Tires, Rear Seats, Flip-Flop Rear Seat Kits, Replacement Tops, etc.) may require additional shipping charges, depending on the destination location. We will contact you prior to shipment if your golf cart gear requires additional freight costs. Please note, undeliverable freight orders are subject to a $125 restocking fee.
Sales Tax Charged in the Following States:
Arizona: 8.30%, Florida: 7.00%, Georgia: 7.00%, Indiana: 7.00%, Iowa: 7.00%, Minnesota: 6.87%, Nebraska: 7.25%, Nevada: 7.10%, New York: 8.00%, North Carolina: 7.00%, Pennsylvania: 6.00%