Reliance Starter Generator - For Yamaha (Models G2/G8/G9/G11/G14)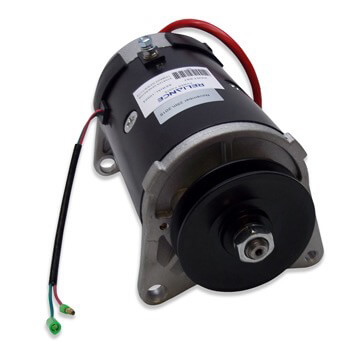 WARNING
: Cancer & Reproductive Harm -
https://www.p65warnings.ca.gov
Product Details
This Buggies Unlimited OEM replacement part has been developed to meet or even exceed the manufacturer's original equipment specifications.
Specifications:
Fits Yamaha Gas Models G2/G8/G9/G11/G14
Pulley Included
Replaces OEM# J38-81100-11 and J38-81160-10
Questions & Answers
Browse 2 questions
Browse 2 questions and 4 answers
A few weeks ago I had just the click when depressing the gas, pulled the battery and fully charged it. After replacing the battery oil light on first click lights and reverse buzzer works but now not even a click, totally nothing. Can I test voltage on the starter leads to verify the starter is bad prior to ordering a new one ?
BEST ANSWER:
Yes, measure the voltage from the positive battery terminal to the positive side of the starter solenoid. Then with the key one, measure the positive and negative terminals on the solenoid to make sure it is passing power to each terminal. Then measure the voltage from the solenoid to the starter. May want to look up how to test a solenoid online to see how it is done.

Second, bench test the starter. Disconnect the positive cable going to the starter motor. Using a pair of jumper cables, connect the negative end to the metal casting on the starter. Next, connect the positive and negative cable to a good known battery. Then you can touch the positive end of the jumper cable to the terminal on the starter motor. You may have to connect it a few times, it may spark but that's normal. If the motor doesn't turn over at all, then that's the issue. If it does, the starter solenoid is more than likely the issue. Hope that helps.
Neil S

on Jun 27, 2019

Purchased on Jul 8, 2017
how can you tell if your starter is going out on a yamaha gas cart?
BEST ANSWER:
Often, it will appear that your battery is weak; you may hear a clicking sound when you attempt to start the vehicle. But most probably, it will appear the starter is dead; there will be no activity. You can try tapping the side of the starter with a small hammer of wrench; this will often cause starter to engage. This usually indicates a brush problem, which is fairly common to these replacement starters. Brushes are not expensive, but you will have to remove the starter to replace them. If you have the mechanical skills, this is not difficult.

When replacing the starter, be sure to label where wires go; it is easy to get them mixed up.

Repair shops are usually not real keen on rewiring starters, so your best bet is to buy a new one.
WILLIAM N

on Apr 2, 2019

Purchased on Sep 17, 2017