Jake's 6" Yamaha A-Arm Lift Kit Combo (Models G14-G19)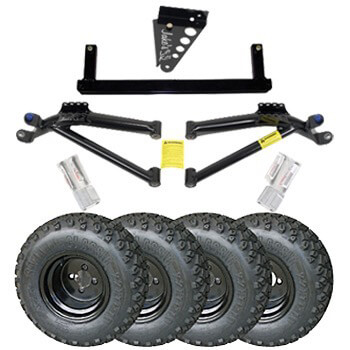 Product Details
Package includes: four 10" Sahara Classic Tires mounted on 10X7 Black steel wheels, with a 6" JAKE'S Spindle lift kit!
Tread Classification:
Combo Specifications:
Fits Yamaha G14, G16 and G19 Gas & Electric Models
10" Sahara Classic Tire, 4-ply, 22 x 11 x 10
10x7 Black Steel wheel, 3/4 Offset
Jake's 6" A-arm Lift Kit
Note: All Wheels are 4 on 4 Hole / Lug pattern unless specified in description.
Customer Reviews
sweet ride
this kit turned my plain old golf cart into an awsome trail machine. It was excellent for deer hunting, it got me and all my equipment into the wood silentlyelectric cart. I made sides from grass and sat in it as my blind. Bagged a 12 pointer and with my flip flop seat hauled it out no problem. I highly recomend getting the sugested extra spring for the back to avoid tire rub with the larger tires.