High Torque Motor & Controller Conversion System - Club Car DS Regen I & II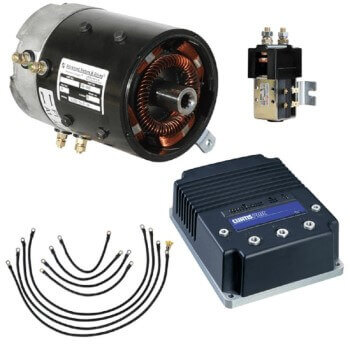 WARNING
: Cancer & Reproductive Harm -
https://www.p65warnings.ca.gov
Product Details
Complete Motor & Controller Conversion Upgrade Kit - Club Car DS Regen I & II
Kit Application:
1995-2001 48v Club Car DS Regen I & II (Rocker style F/R switch)
For lifted carts with up to 25" tires
Speeds up to 22 MPH
System Includes:
AMD High Torque 5HP Motor
Curtis 500 Amp High Amperage Controller (5k-0)
High Amperage Solenoid, with bracket & diode
4 Gauge Complete Cable Set & IQ conversion harness
Complete Instructions
OEM
Model
Start Year
End Year
Power (Gas or Electric)
Club Car
DS
1995
2001
Electric
Customer Reviews
Took a little while to install, but worth it.
First, the technical support staff is great. I had called them several times because I was converting a 36v Club Car DS to 48v. The complete set of wiring instructions weren't included, but one call to the tech support team, and I had all the diagrams I needed. Prior to this switch out, I also changed out the differential gears from 8:1 to 12:1. After installing everything, according to the instructions, I called the tech team, once again, to ensure everything was wired properly. They were patient and walked me through all wires before I attached the batteries. Once I got it running, I took it for a speed test in my neighborhood. With the windshield up, and on knobby tires, I was able to get 26mph out of it with great torque. I'm going to see if i can get a little more out of it using street tires. I'm so impressed by this team. Buggies Unlimited will always have my business.
plancent
It took us five days to complete the installation. The instructions for the 39000 wiring conversation was very difficult to use because it referred to wire labels that were not on the new harness and the wire colors did not match our club car. We had to rely on our electrical experience to correctly install the new 39000 harness.
The instructions for installation of the motor and controller were incomplete. We completed the installation and ran the cart in six days which could be completed in one day with better instructions.
March 17, 2019
Purchased
10 months ago