High Speed Motor/Controller Conversion System - E-Z-GO Medalist/TXT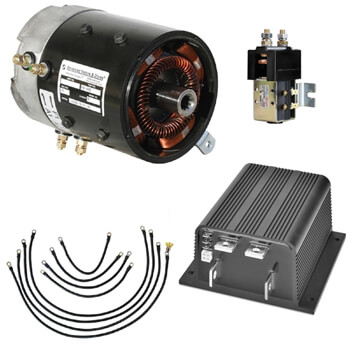 Product Details
Complete Motor & Controller Conversion Upgrade Kit - E-Z-GO Medalist/TXT Series
Kit Application:
1994-Up E-Z-GO Medalist/TXT 36v Series (Lever style F/R switch)
For non-lifted carts (up to 21" tires)
High speed over stock system (speeds up to 25 mph)
System Includes:
AMD Speed 6HP Series Motor
Curtis 500a High Amperage Controller (ITS input)
High Amperage F/R switch, Solenoid with bracket & diode
Diode, Resistor & 4 Gauge Complete Cable Set
Complete Instructions
Customer Reviews
EZGO Speed Kit
I Just installed this kit, myself and the performance is amazing!! The speed increase in my cart was incredible! It took me about 7 hours to do the work in my home garage, but the result was very impressive. The directions given to me by Buggies Unlimited were very thorough. FYI a price of advice when removing or installing the motor it is much easier to get a strap with a ratchet on to sling the back of the front seat into the area the motor goes - I had my wife raise the new motor on the strap as I guided it onto the spline of the gear box, this hold the weight of the motor and it helped tremendously!! Also its a good opportunity to clean the battery tray and re paint it before you re install the batteries. Trust me you will love this speed kit!!!