Club Car DS White 80" Blue-Dot Top Assembly (Fits 1982-1999)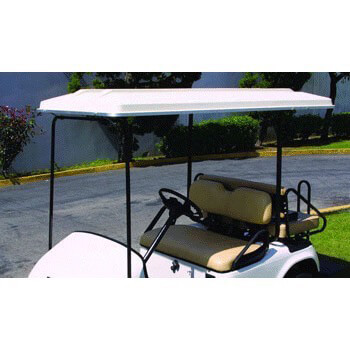 Call for Price 1-888-444-9994
* This is an oversized item and requires freight shipment. Please call for quote, and to schedule a delivery time.
Product Details
Cover your rear seats with these oversized 80" tops!
Specifications:
Works on carts with PMI rear seats only
Frame gives top added strength & rigidity to prevent warpage
Covers rear seats (Includes supports & hardware)
White color
Note: All tops ship light truck freight ONLY, Please call us for a personalized quote!
Note: These are
NOT
OEM replacement tops. These are Aftermarket tops.
Customer Reviews
Nice product.....product support.....not so good
Product arrived in local area on time. Had to drive 30 miles to get it from shipper or wait for 4 days till they deliver to my area. Not happy.
Once I opened the package the instructions only covered pages 3 thru 5. Pages 1 and 2 missing. I have to assume pages 1 and 2 have to do with mounting the rear struts as pages 3 thru 5 do not address them.
Called Buggies Unlimited at least 5 times to find out how I could get pages 1 and 2 of instructions. Attempted to talk with salesman I had originally ordered part from......went to voice mail and I have yet to get a return call. Finally tried calling just customer support..... Either I was hung up or or the rep ----when I finally got to talk with someone ----did not know and wanted to refer me to technical support. Never talked to anyone in tech support......on hold for up to 20 mins or more...finally hung up.
Tried callling the actual vendor of the product......got pretty much the same run around......no answer of the line...left messages....no return phone call.
Did finally figure out how to mount the struts...or at least hope we did......holes did match those drilled in the struts.
The actual product is nice.....really looks good on my buggy and appears to be very solidly made. Too bad ....good product .....no product support.
Doubt if I will do any further business with Buggies Unlimited.
June 1, 2018
Purchased
1 month ago
Response from Buggies Unlimited
Please give us a call to allow us to correct the issue that is at hand. Thank you and look forward to hear from you soon.