Club Car DS Upgraded Power Spring (Fits 1986-Up)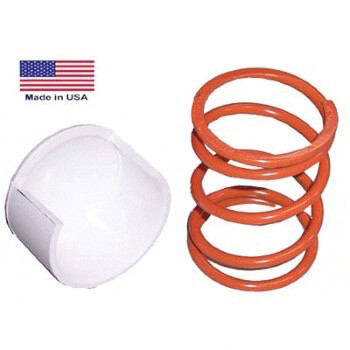 Product Details
Power Spring Upgrade for 1986-Up Club Car DS Gas Models
Specifications:
This kit is a must for lifted carts with larger tires
Comes with heavier spring and install tool
This kit gears the cart lower, giving it more torque, for faster take off and better hill climbing
Easy installation
Made in U.S.A.
Please Note:
These springs will only work on a factory OEM clutch. If you have an aftermarket clutch you will not be able to install properly
Questions & Answers
Browse 3 questions
Browse 3 questions and 9 answers
we just bought a 1999 club cart that has been extended to make it a 6 passenger and also has a lift and bigger tires. we have a hill where we are at and can only make it about half way up it will this help with the torque to possibly make it up it?
BEST ANSWER:
It might help, unsure, you've made a lot of changes. If it's the Fe290 engine, I might suspect that the ending itself just doesn't have the HP for all those modifications
craig m

on May 27, 2018

Purchased on Jan 10, 2018
how to increase speed on my 1997 lifted club car?
BEST ANSWER:
An upgraded power spring in the secondary clutch will increase the lower end power by essentially delaying the shift point of the clutch. This gives a better drive ratio for larger tires. The larger tires themselves will increase your top speed a bit. The fe290 engine can safely handle 3900 rpm. Adjust it properly. Do not remove the governor system if you want to keep your engine for a while.
Mark M

on May 15, 2018

Purchased on Jun 17, 2017
Will this lower the speed of my cart? I need to drive under 5 MPH and cant do it with out gas and coast, gas and coast....
BEST ANSWER:
this will not lower the speed but it will give the cart a lower torque range so it may help with the 5 mph speed limit