Club Car DS Upgraded Power Spring (Fits 1986-Up)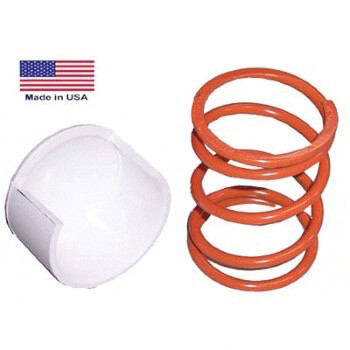 WARNING
: Cancer & Reproductive Harm -
https://www.p65warnings.ca.gov
Product Details
Power Spring Upgrade for 1986-Up Club Car DS Gas Models
Specifications:
This kit is a must for lifted carts with larger tires
Comes with heavier spring and install tool
This kit gears the cart lower, giving it more torque, for faster take off and better hill climbing
Easy installation
Made in U.S.A.
Please Note:
These springs will only work on a factory OEM clutch. If you have an aftermarket clutch you will not be able to install properly
OEM
Model
Start Year
End Year
Power (Gas or Electric)
Club Car
DS
1986
Current
Gas
Customer Reviews
Golf Cart
Club Car DS (1)
Big help with hills!
Made a surprising difference in loaded hillclimbing ability. Much more power, and no loss in speed top end. Be sure to lube clutch shaft and nylon stops for increased response time and smoother ratio changing:)..
Give your cart some go !
Awesome, My club car wouldn't go up a hill with one person now it goes up loaded with 4 . Best investment I've made so far .
June 14, 2019
Purchased
1 year ago
Fantastic Upgrade
I was skeptical that changing the clutch spring would help my cart get up hills better, but it has made an amazing difference! Previously my cart would barely go up a hill with one person in the cart. Now multiple people can ride, even pulling a small utility trailer, and the cart just powers up the hill.
October 22, 2018
Purchased
1 year ago