Club Car DS Air Filter (Fits 1992-Up)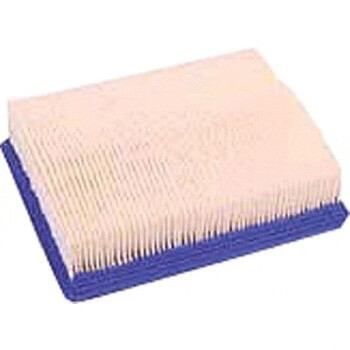 Product Details
This Buggies Unlimited OEM replacement part has been developed to meet or even exceed the manufacturer's original equipment specifications.
Specifications:
Air filter
Fits Club Car gas 1992-up DS cars
Replaces OEM Number(s): 1015426
Questions & Answers
Browse 1 question
Browse 1 question and 2 answers
I have a 1995 club car with a gas motor that doesnt want to start sometimes. I push the gas peddle and let it off 3 or 4 times before it will start or if i squeeze the big hose from the air filter box to the carb usually it will start. What could be the problem? Canthe motet vaperlock
BEST ANSWER:
Sounds like it might be running a little lean, if you are restricting the air flow to the carb, its the same thing as pulling the choke lever. Check the fuel pump, make sure its pulsing fuel out of the line that runs up to the carb. Just take it off at the carb, point it down into an empty can or something to catch the gas and hit the pedal. It should pulse fuel about an inch out of the line every time the engine turns over. If its just s trickle or nothing at all, the diaphragm in the fuel pump has given up the ghost. Ethanol destroys the diaphragm over time. I always check the "BIG 3" Fuel, Fire and Compression. So we covered fuel, make sure you are getting good spark and that the compression is in the range of 140 or better.
Customer Reviews
Fit perfectly. Correct OEM replacement.
June 13, 2018
Purchased
1 month ago
May 25, 2018
Purchased
2 months ago